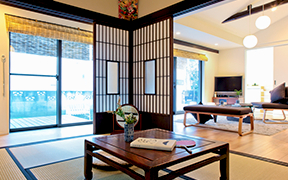 Find a place to stay
Search our list of properties to find your next accommodation, and discover a large choice of rental houses and apartments close to tourist attractions or business centers, homestay accommodations ideal for a cultural immersion, and other types of lodging facilities.
START YOUR SEARCH
Enjoy your stay in your own way
Choose the type of accommodation that best suits your needs, lifestyle and preferences. It may be a fully furnished house that makes you feel at home during a medium or long-term stay, a corporate apartment if you travel for work, or a guest house close to cultural or entertainment events... Find the best place to enjoy your stay in your own way!