There's no need to visit a big city to enjoy eating, cooking, and cultural learning. Located about two and a half hours away by bullet train from Tokyo station, Iwate Town is the perfect place for a two day gourmet getaway. Continue reading for a fun two days worth of delicious food with a side of culture.
| Let's Make Oyster Sausages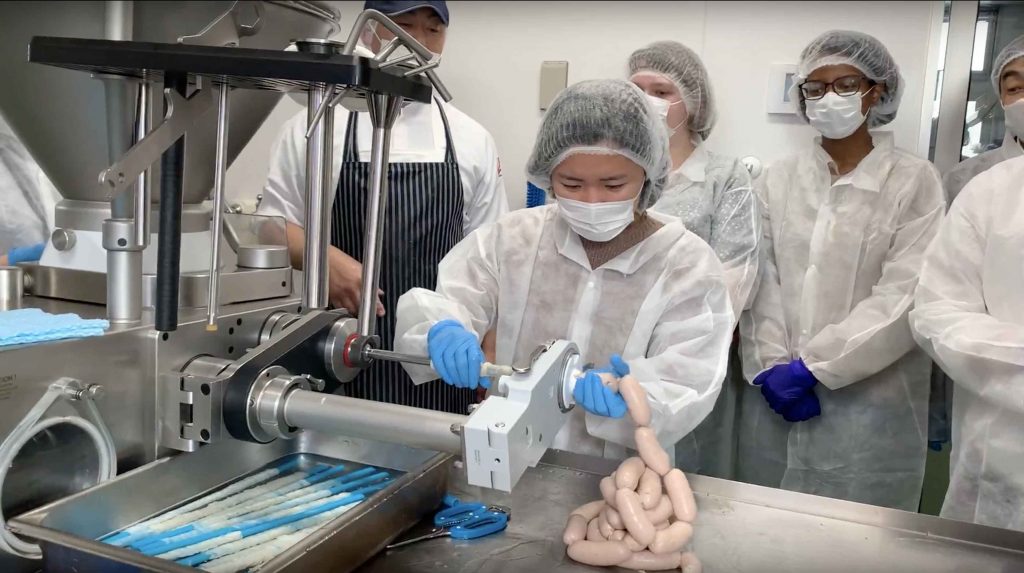 In Bordeaux, France, it is common to serve oysters with sausages or loukenkas during Christmas. Here is a sausage factory just 2.5 hours north of Tokyo with a forward-thinking Chief Executive Officer who created his dish. His name is Shinji Fugane.
Mr. Fugane was inspired by French Chef Morita-san to create oyster sausages for a special dinner that we were having that night. He named the sausages "Bordeaux." To his amazement, the flavor combinations were a perfect match.
| How Does One Make Oyster Sausages?
1. He first added pork and salt into what he called the "Silent Mixer."
It shocked everyone in the group when he plunged his hand in to help further mix the load.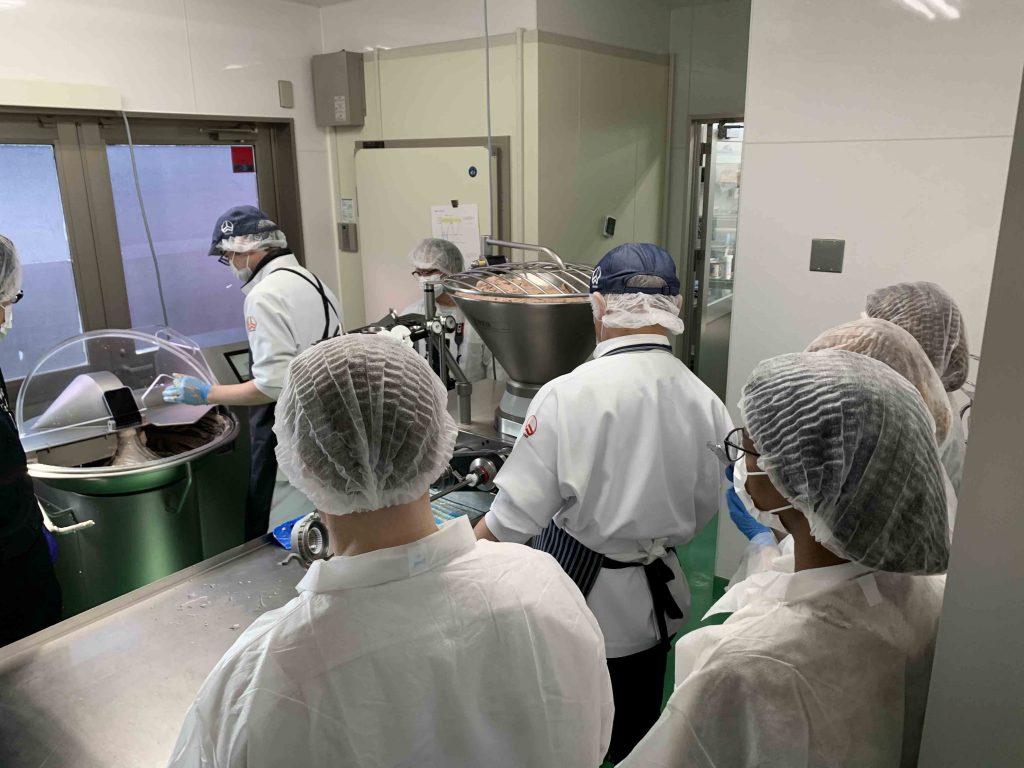 2. Next, a few amounts of measuring takes place for consistency.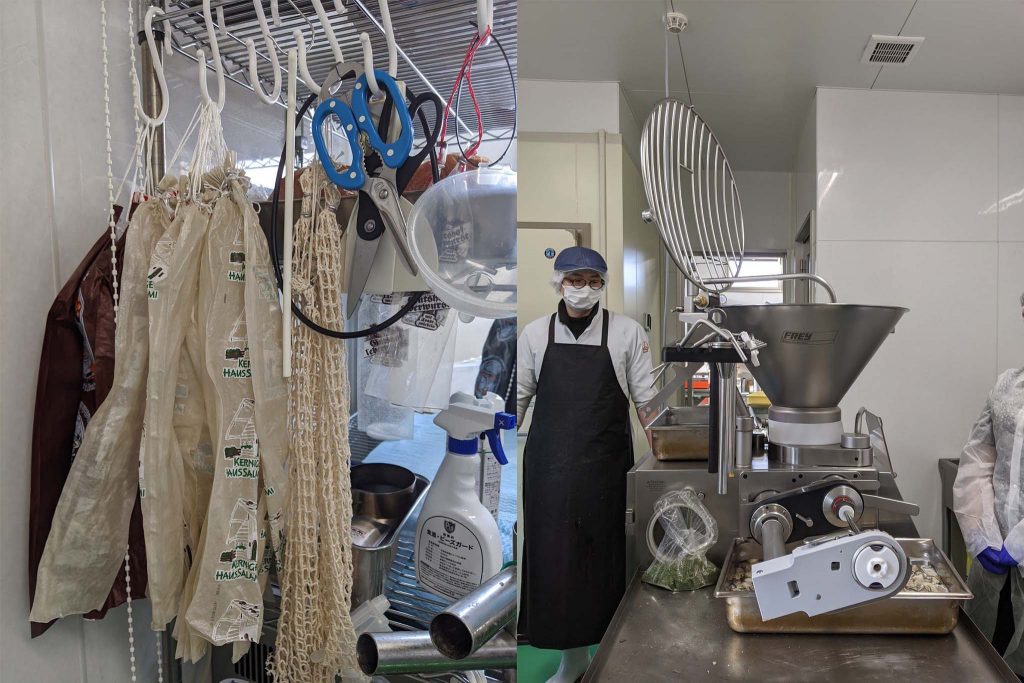 3. Oyster time!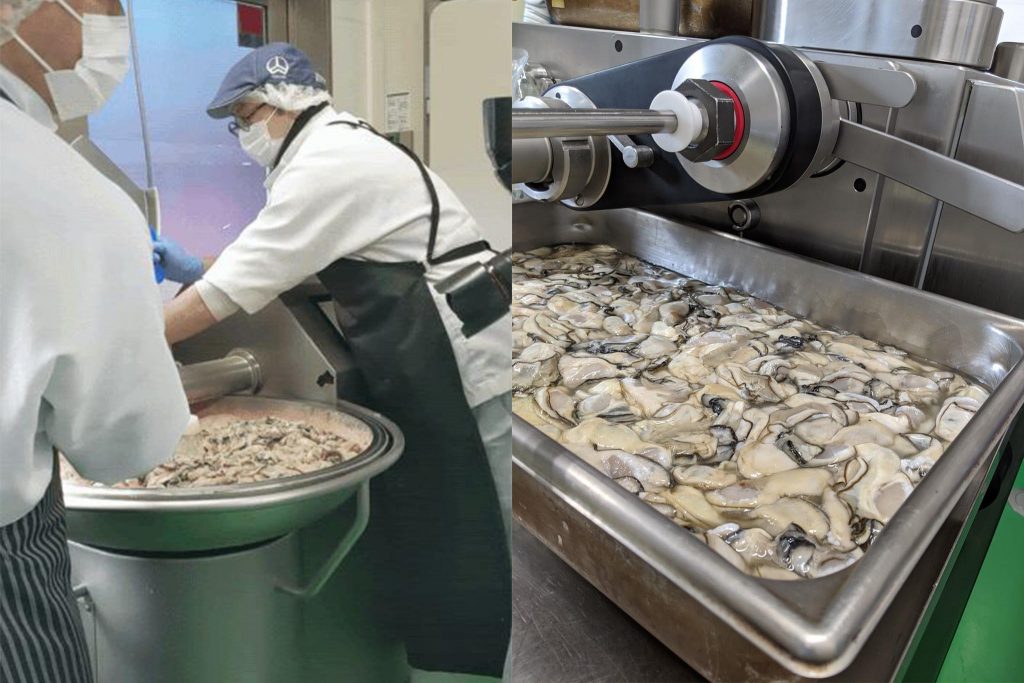 It shocked everyone in the group when he plunged his hand in to help further mix the load.
When it's time to add in the oysters, Mr. Fugane significantly decreases the speed of the machine to ensure the oysters maintain their soft and chewy textures. He mentioned their oysters were caught from the Pacific Ocean that day. They were so fresh, you could eat them raw on the spot.
4. It's finally time to fill the sausage casing using a motorized filler.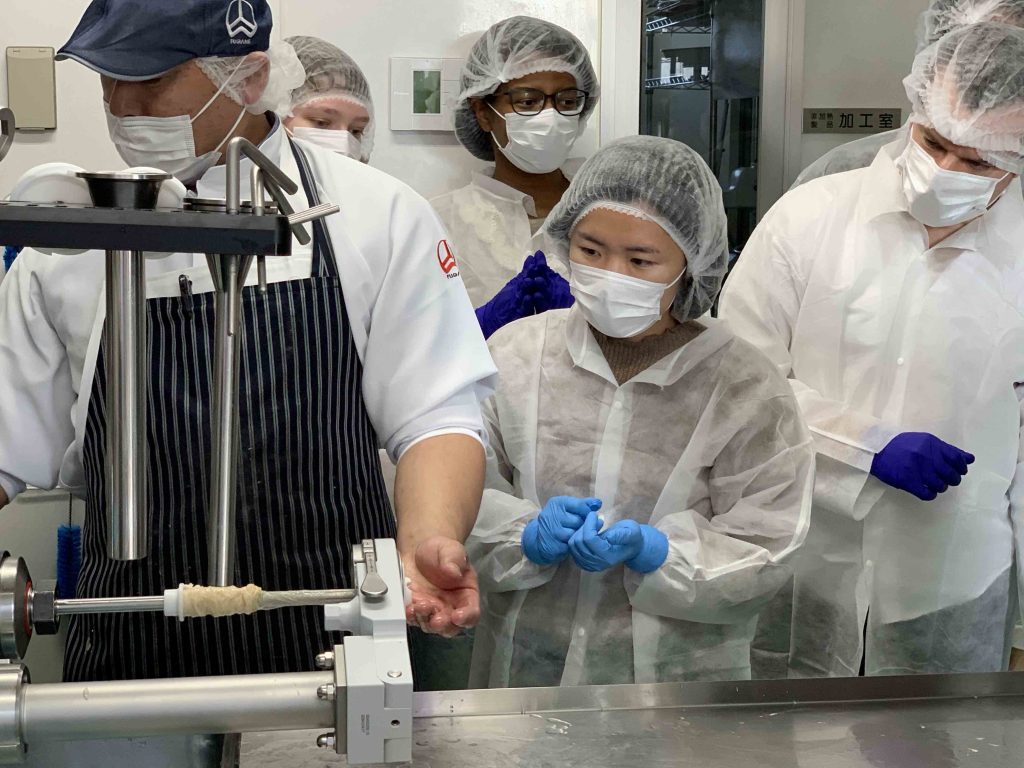 You control the machine by hitting a panel with your knee. Mr. Fugane ordered the casings from Australia! We had two different kinds, sheep and pig.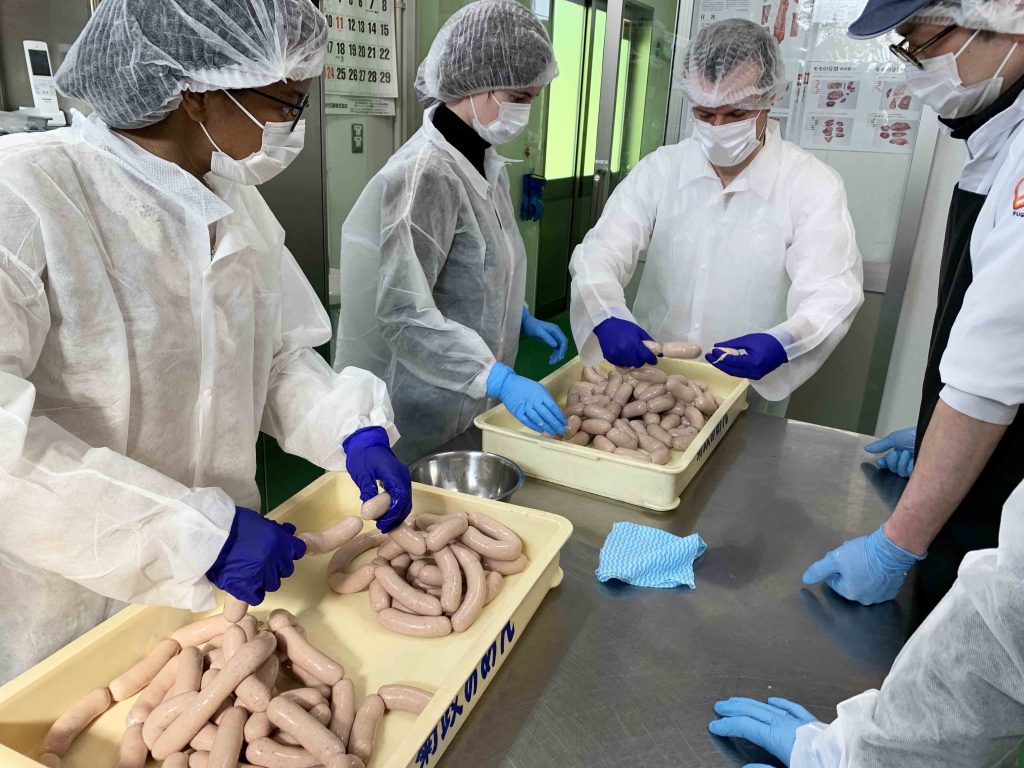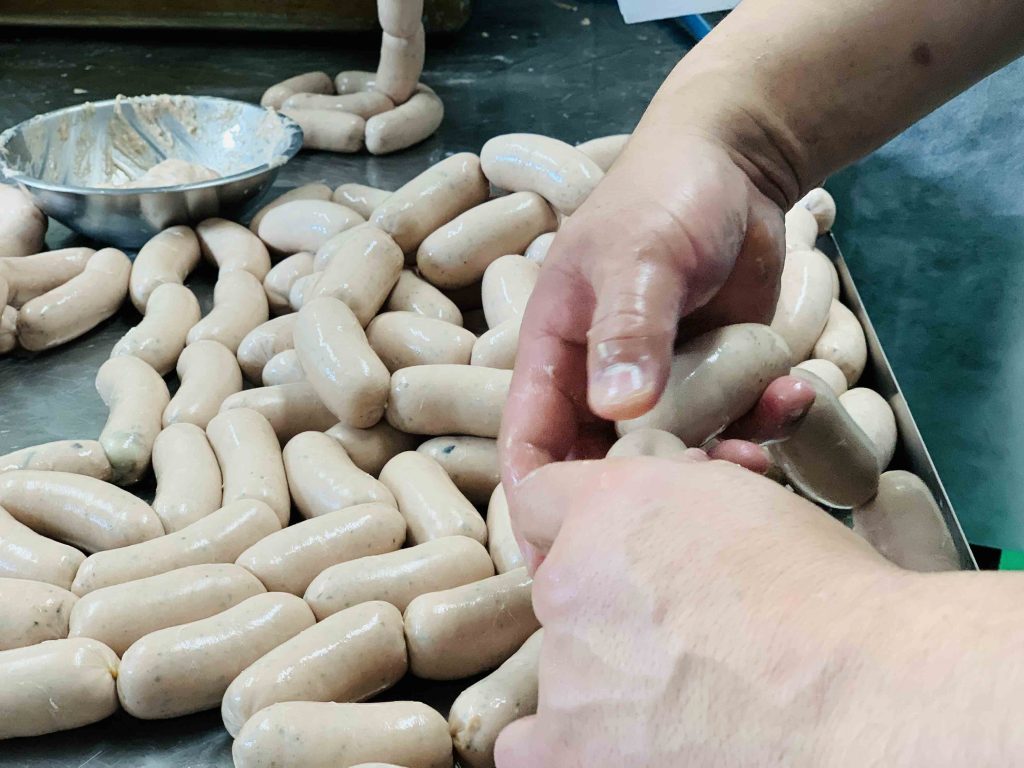 5. We are finally on the last step! It's all about twisting, or in Japanese, "kuru kuru" ("クルクル.") We twisted one sausage by holding the bordering sausages with our right arm. After we finished making the sausages we were able to take them home.
| Nanatsu Odori Dance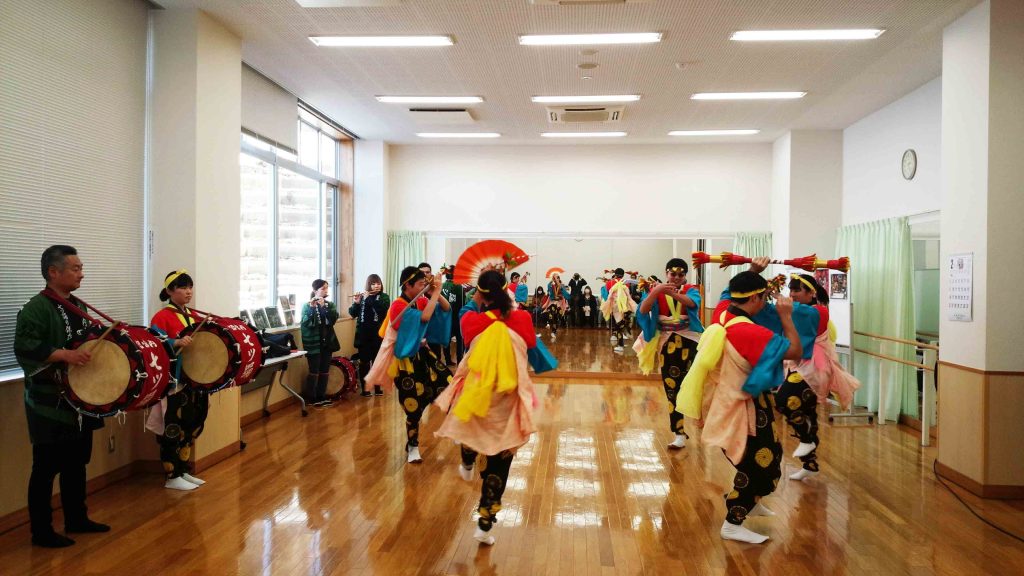 Iwate Town famous Nanatsu Odori dance contains various symbols such as long swords, bows, and walking in circles represents: improvement of land, defeat evil spirits, aiming to produce bountiful crops for the future.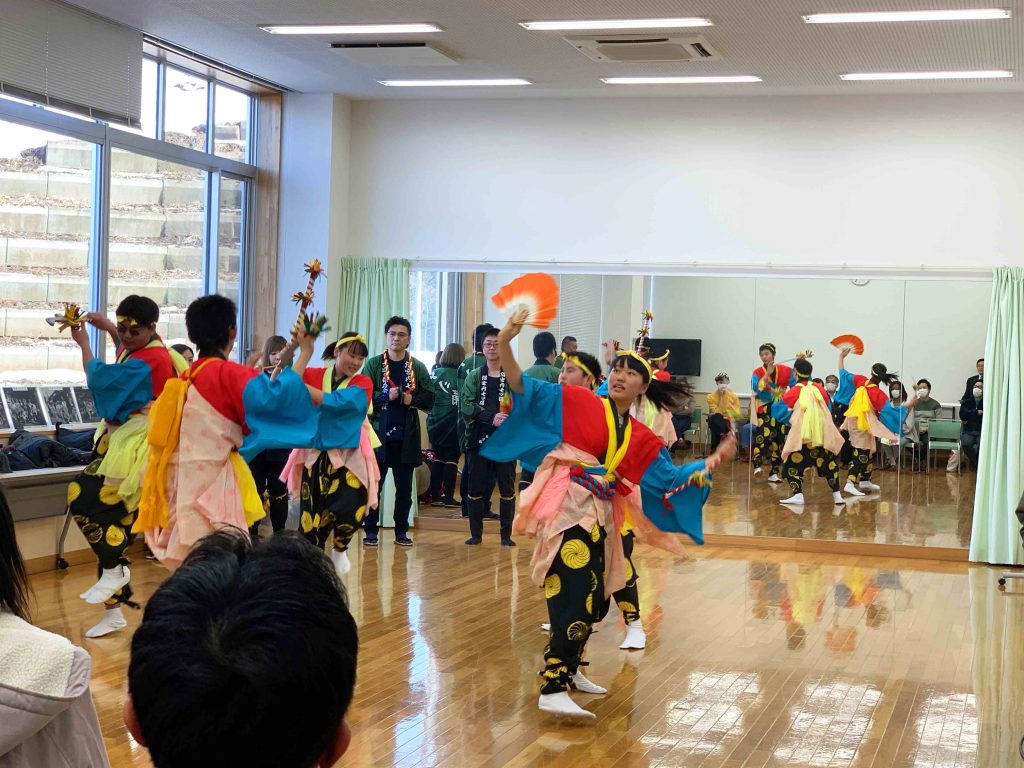 We popped into Iwate Town community center and saw a group of dancers. They were all wearing beautifully colored festival clothes. I was surprised to learn they were junior high school students. They each had different routines based on the prop they held. Together, they showed an intricate style of dancing.
| Dinner at Historical Mansion Ozanso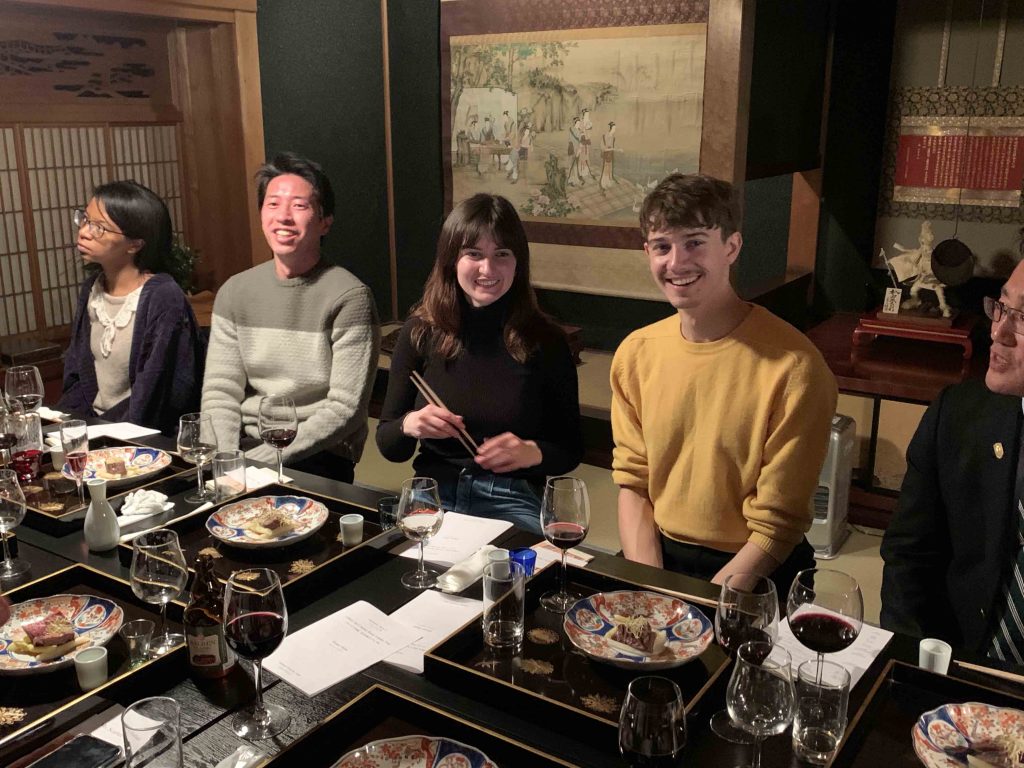 When it comes to mastering the art of dinner parties, Japanese people always come out top. This past weekend I got to experience the best food I have ever tasted amongst some of Iwate Town most welcoming hosts.
During the Edo period, Itagaki Soin opened a private school at the end of the Tokugawa period. The school produced many pioneers who were involved in the development of Iwate for years to come. Mr. Itagaki needed to move to Tokyo but before he did, he bought and renovated a new building in 1919 and named it Ozanso. It means Cherry Blossom Mountain Lodge and although there are no cherry blossom trees within the garden they named it this because in spring on the mountain behind the property you can see beautiful pink wild cherry trees.
| Dinner Time
It was finally time to かんぱい, kanpai is the Japanese equivalent of making a toast or saying "cheers!". There was a huge selection of locally sourced alcohol which was carefully paired with each dish. The dinner began with Baeren Brewery's classic beer from Morioka. We ate, drank, chatted, and learned where the ingredients came from and how it was made. By describing every dish of the night, it would not do justice to the artistry of chef Morita-san's work.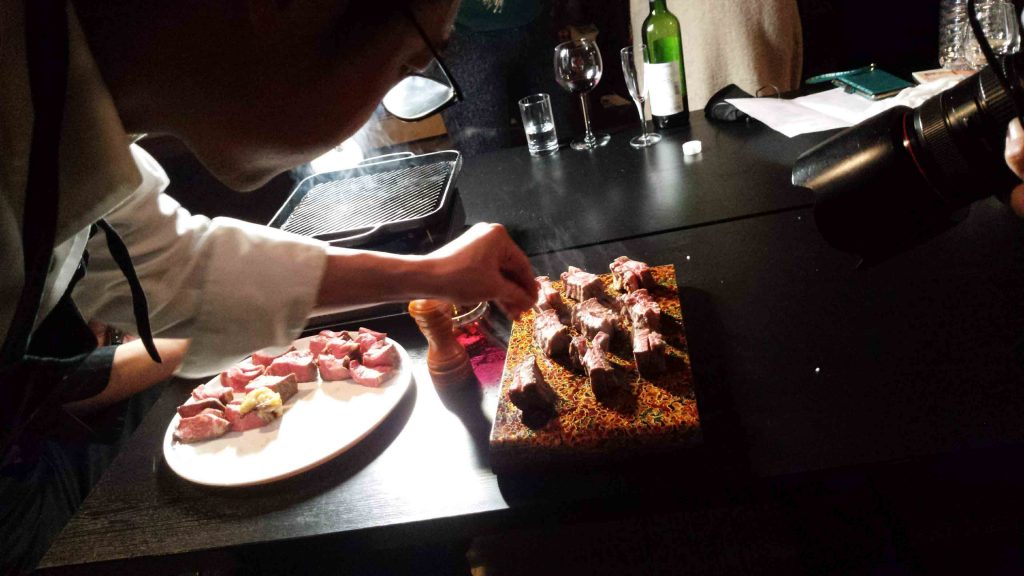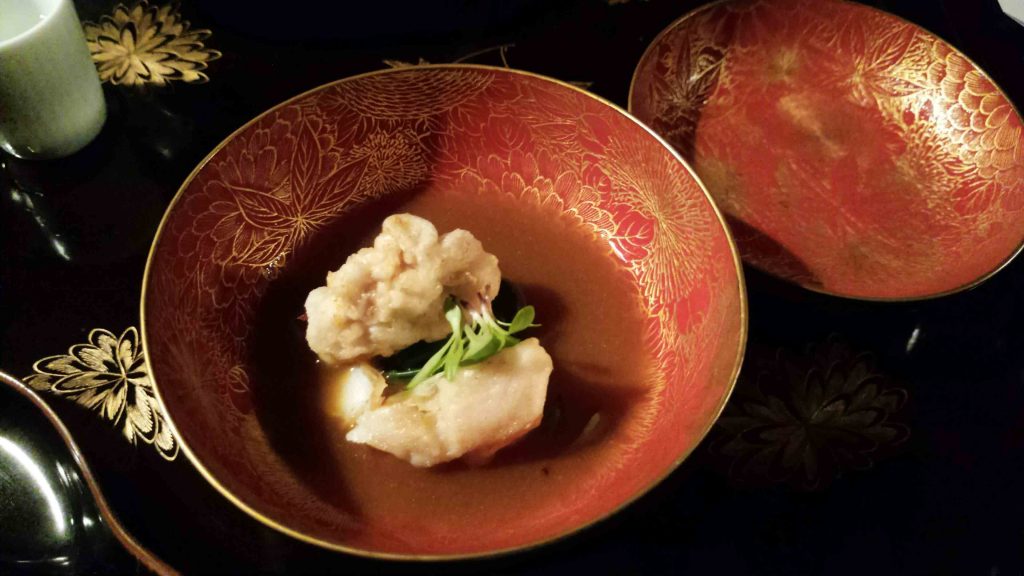 Each course was designed incredibly well and showed how the chef mastered flavors which to induce all five senses: sweet, salty, sour, bitterness and umami. Umami comes from the Japanese word 'Umai' which means deliciousness. It is also considered to be the sixth sense as the taste was discovered not too long ago. It's difficult to say my favorite dish of the night because it was all incredible and also some ingredients were new experiences for me, such as foie gras and horse meat.
One dish that really stood out to me had a combination of ingredients that I would have never put together: buckwheat pancake crepe with mackerel, banana, apples, and sesame.
The sausage shop and Ozanso are situated in the center of Omachi Shopping Street, making it easily accessible for a hearty local meal and historical building exploration.
| Happy Hill Farm Tour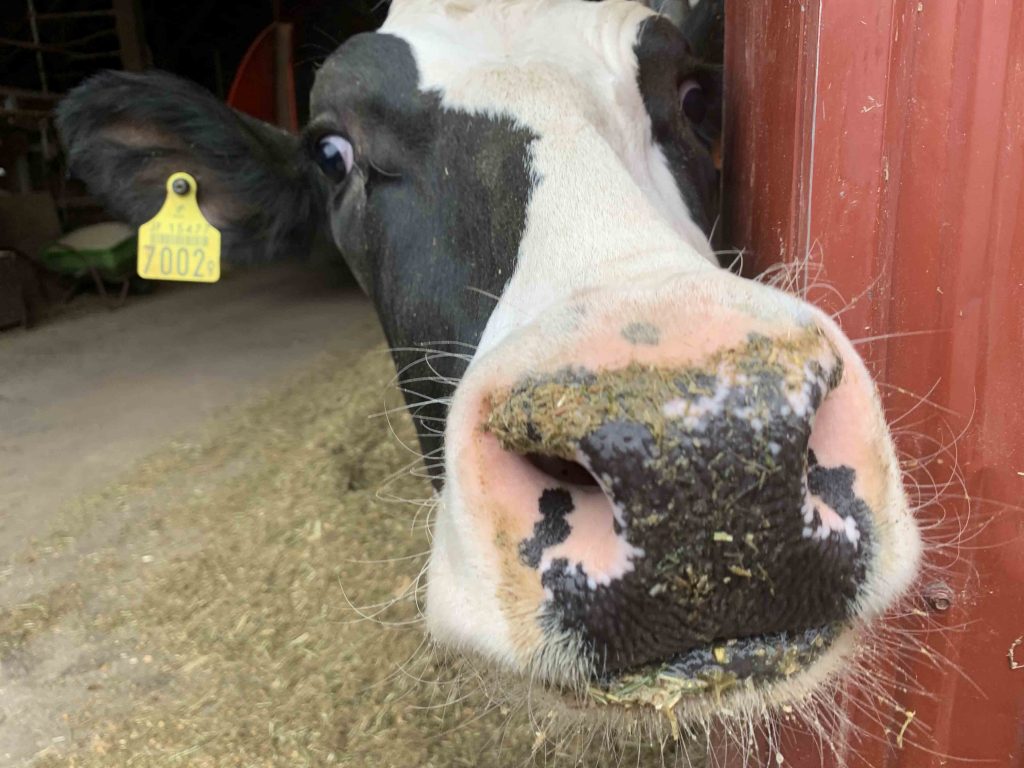 We took a tour of Happy Hill Dairy Farm. The CEO himself, Kazuyuki Chiba gave us a tour of his facility that stretched over 100 hectares and was home to 280 cows. Cows graze on high-quality hay provided by the farm to produce delicious milk. Large female cows greeted us as we entered the barn. According to Chiba-san Happy Hill Farm cows get milked thrice a day.
We then moved onto look at the milking shed where Chiba-san showed us the machinery used to milk the cows and told us how these tools were very intelligent and could stop pumping automatically when there was no more milk left.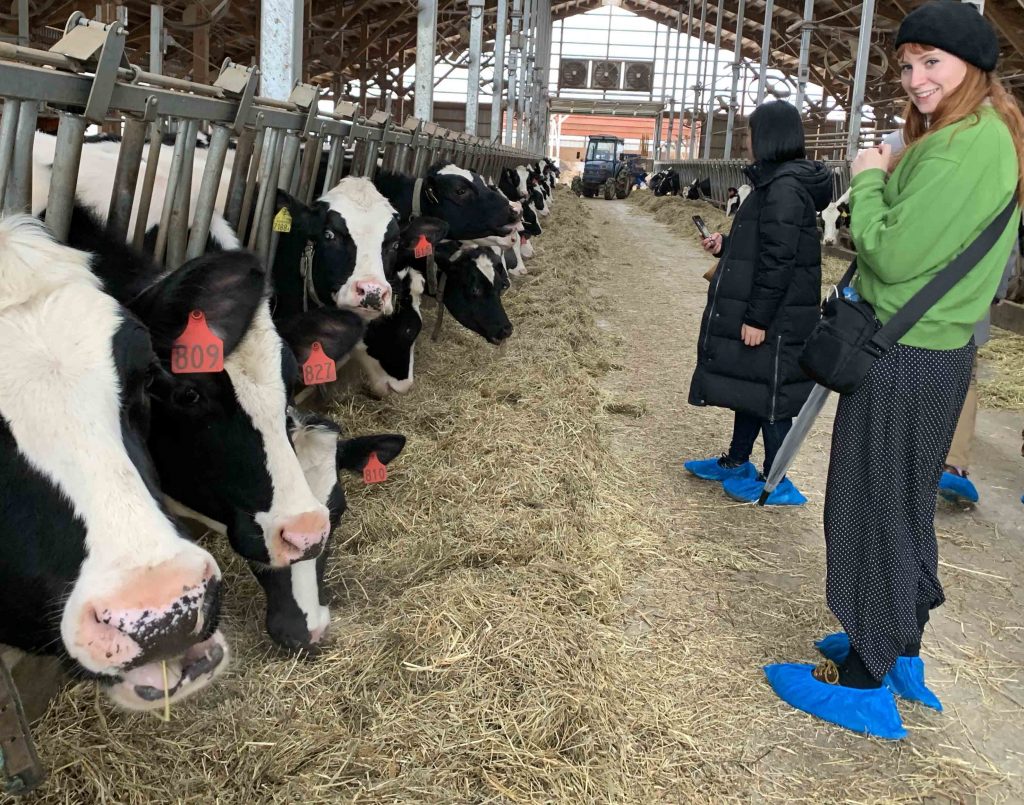 He then brought out three giant bottles of milk and put our tasting skills to the test. We tried three different kinds of milk and attempted to guess which one was his milk from Happy Hill Farm. It was easy to pick his milk out from the others because his milk was the creamiest and most delicious one.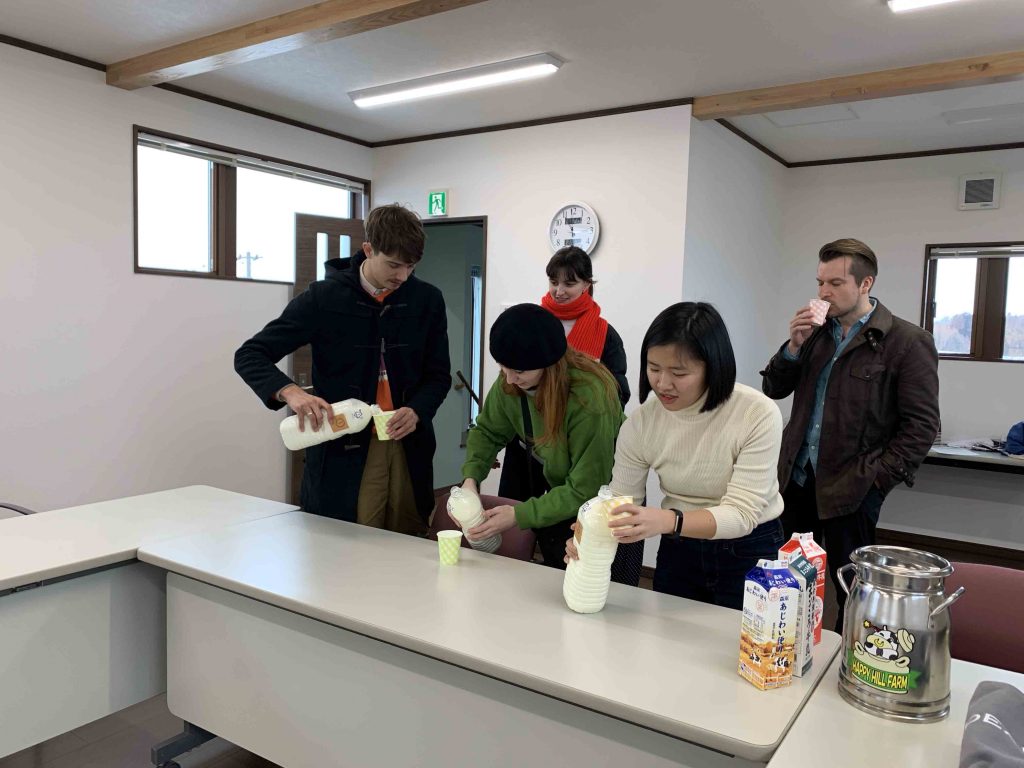 Meeting the cows that do it all and learning about the process of milk production was a great experience.
| Local Dish Making, Hitsumi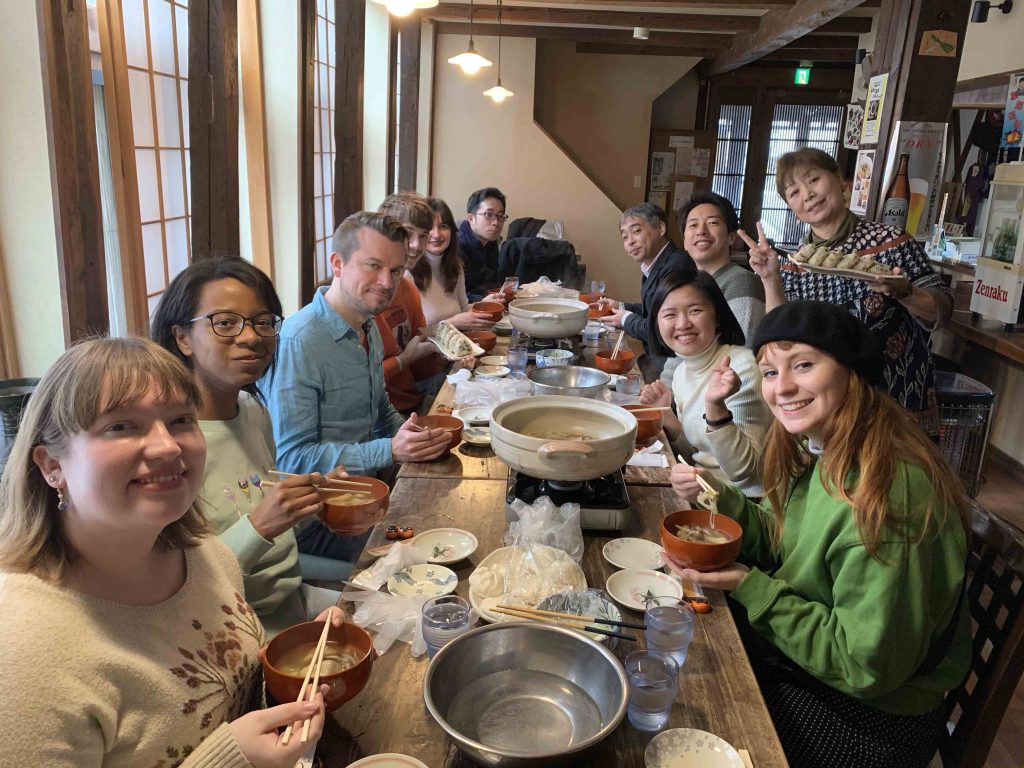 We took a tour of a renovated storehouse that had a Japanese kimonos and textiles that had been used back in the early 1900s. My favorite was an old fly trap. Back downstairs amongst the hardwood restaurant, lunch had been served but before we could eat we were to make the dough for the Hitsumi.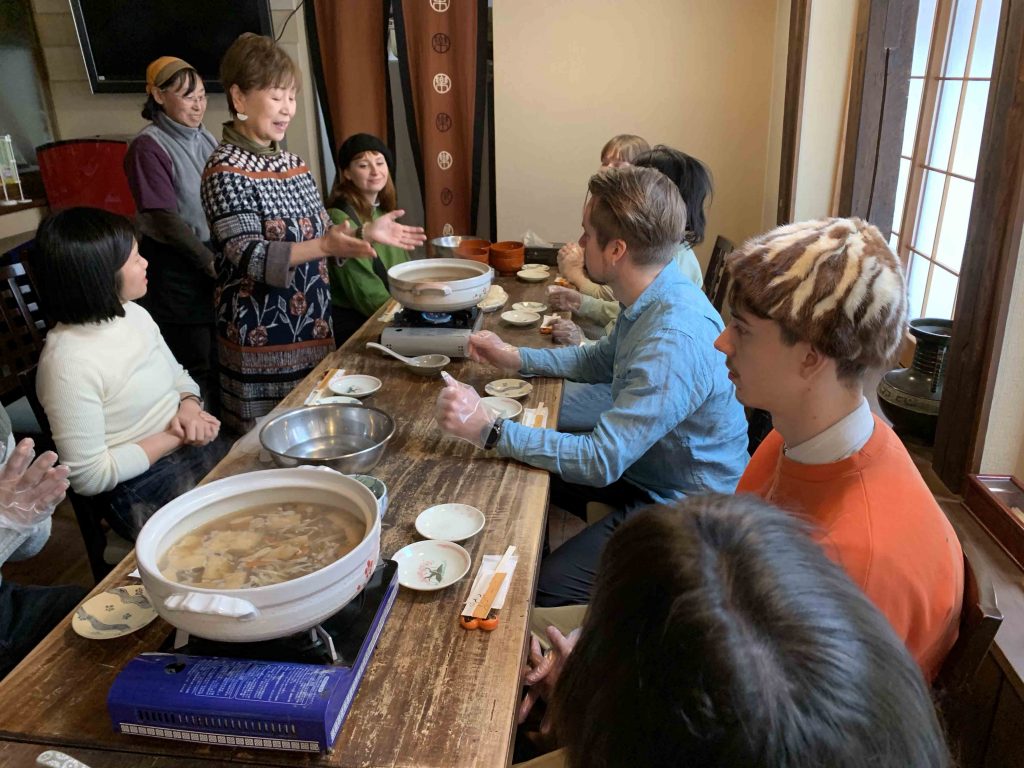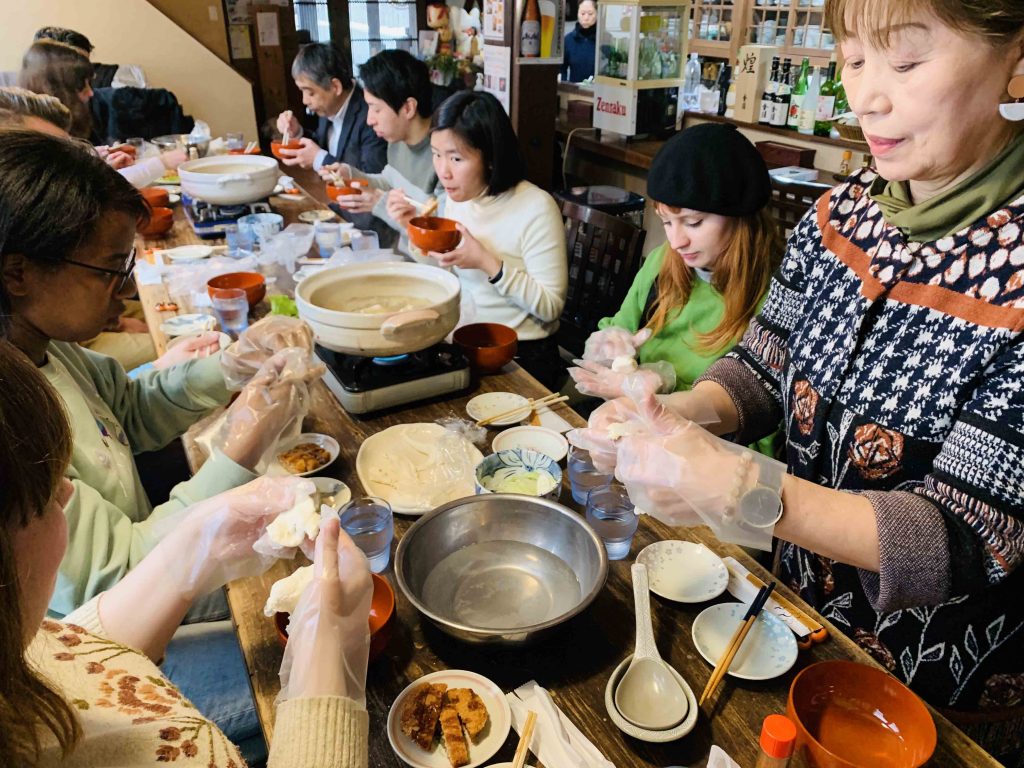 To offset the shortage of rice during a bad harvest the people from Iwate Town would make a soup-stock base called Hitsumi. and includes various seasonal vegetables, shiitake mushrooms and dough circles. Together we kneaded and shaped the stretchy dough into 5cm circles. We then plopped them into the hearty soup to boil. The dough had the same taste and consistency as the outside of gyoza. To me this was amazing as it was a kind of crossover between nabe and gyoza which are two of my favorite Japanese dishes.
Make your way down to Iwate for delicious food and historical adventure.
Check out our other articles in Iwate :
Historical Adventures and Naked Fire Festival in Iwate
Get Haunted To Riches
A Taste Of The Northern Sea: Greater Kuji area, Iwate
---
SJ Authors