I consider myself a pretty keen Japan traveller. I've trodden through Tokyo, Osaka, Kyoto and reached far flung places like Nagasaki but even then, Northern Iwate remained a mystery to me. So, when offered the chance to 'go north', I set off with few ideas but plenty of enthusiasm.
| Restaurant Uondana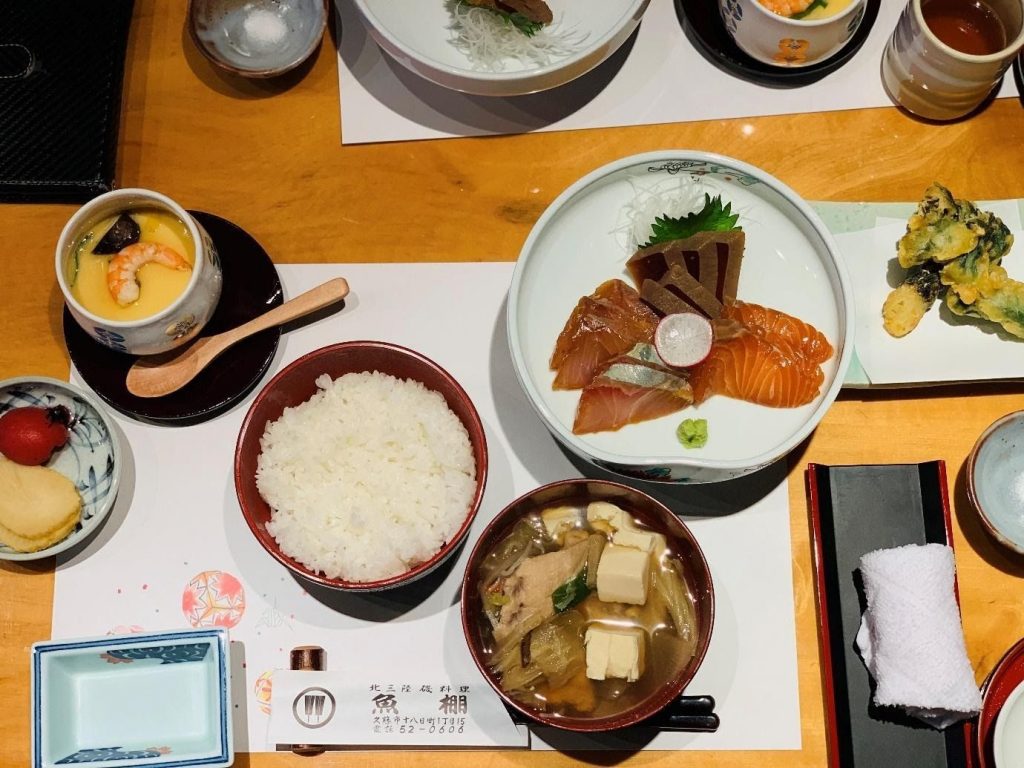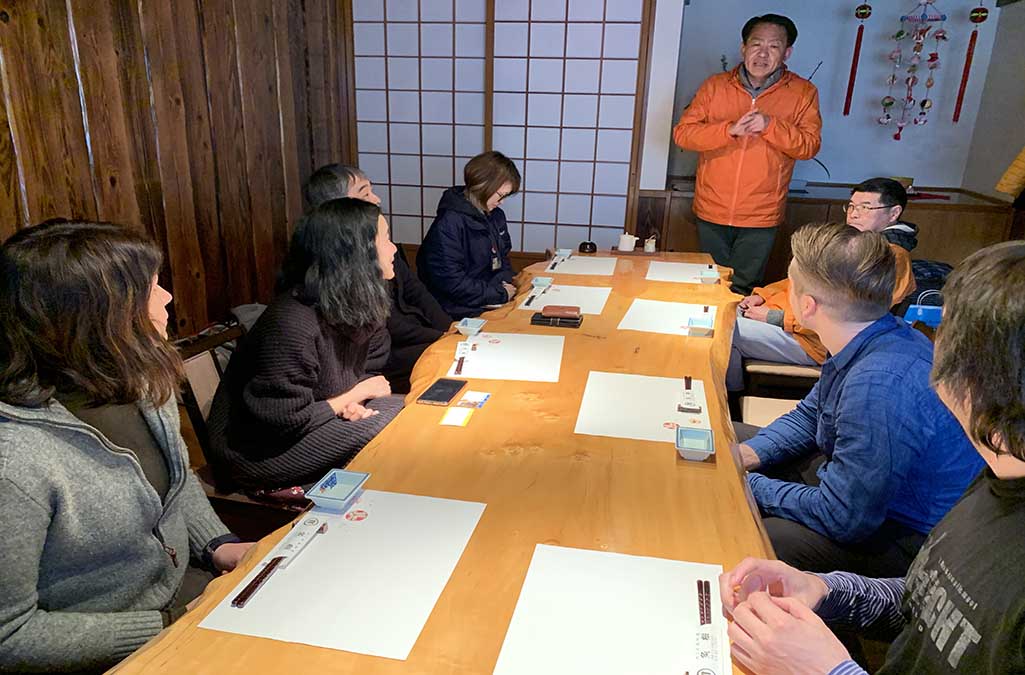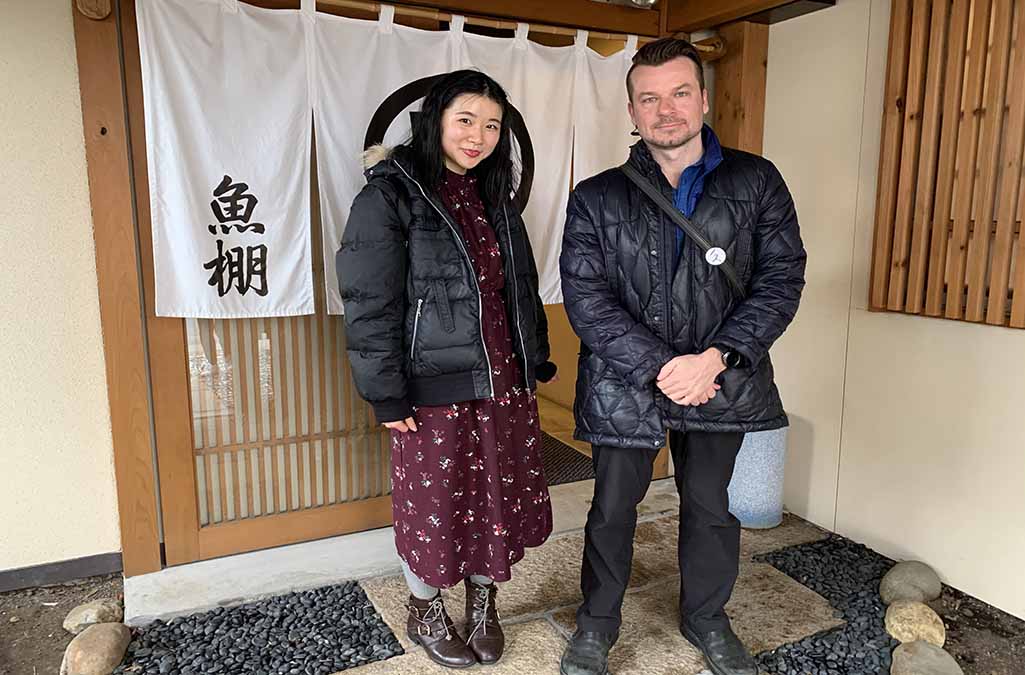 For the first stop we were ushered into an elegant private room at restaurant Uondana. A silent hush fell over the room as soon as the first dish was served. Instantly, I knew we were in for a treat. It almost goes without saying that the seafood from Northern Iwate is exceptional. However, a special mention must be given to the homemade umeboshi (pickled plum), made specially for us by our boisterous guide Kangyuu Toshikazu.
| Kelp Shaving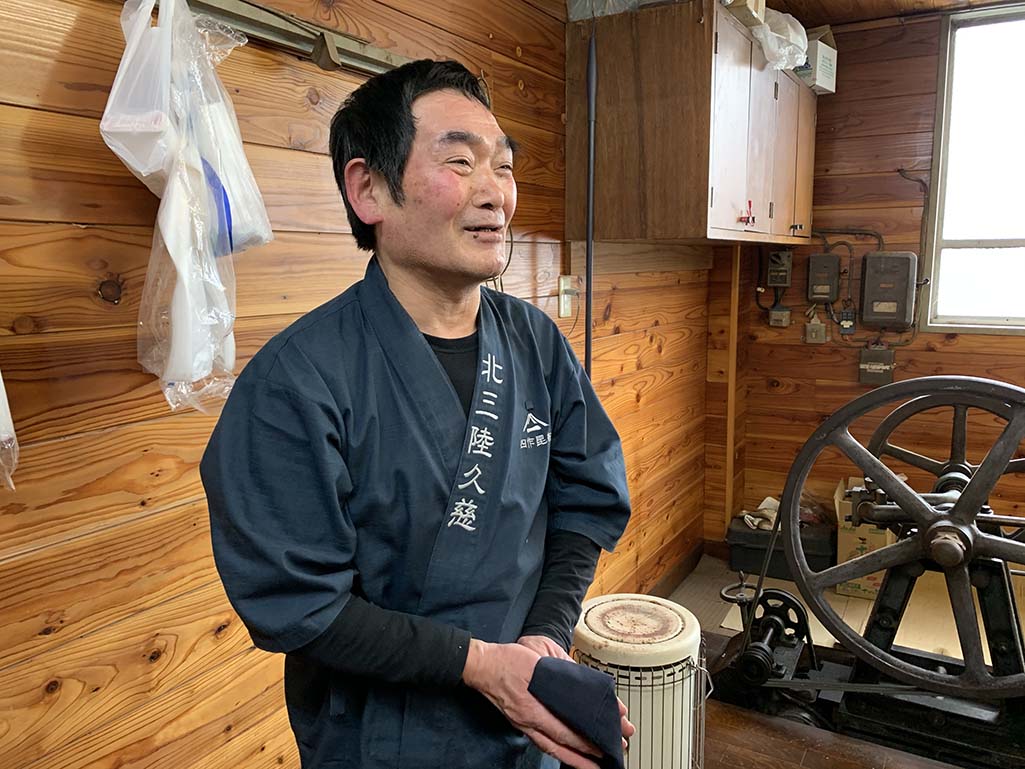 After having more than my fill at lunch, I was ready to pull my sleeves up and get to work. Literally. For the rest of the day, we were going to collect local ingredients to help prepare our own dinner at our farm stay.
An unassuming front led into a back room with some very impressive, almost steampunk looking antique machines. We were introduced to Shisaku Yuji. Described like a living national treasure, he is the only person in all of Iwate who shaves kelp by hand. It's no exaggeration to say that he is a master craftsman, having picked up the trade some 50 years ago. He made shaving down the kelp into almost translucent thin strands seem easy.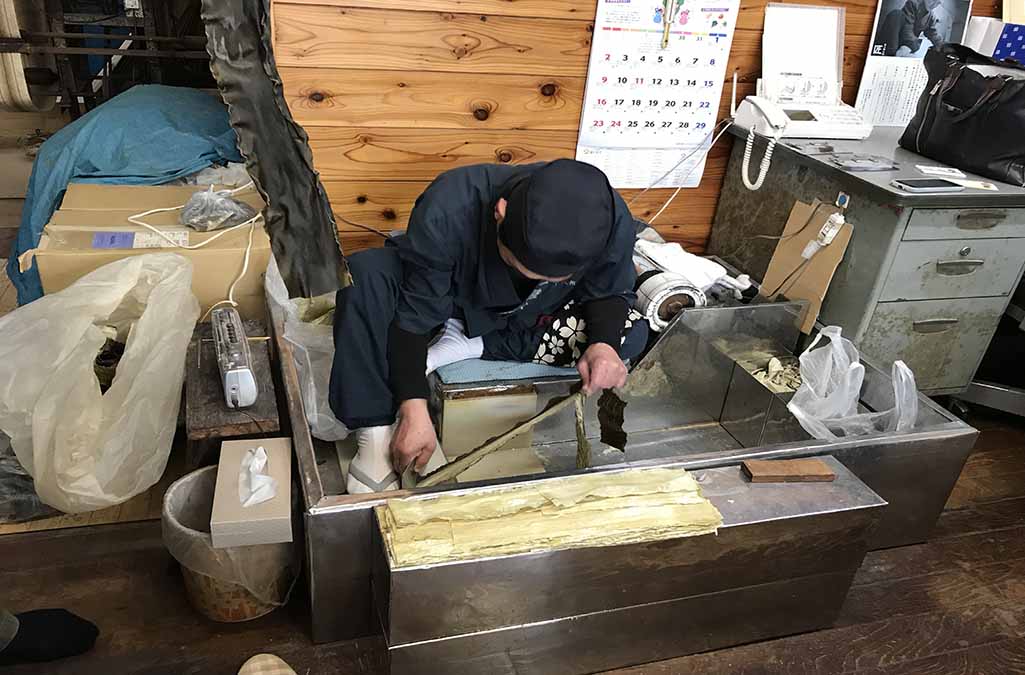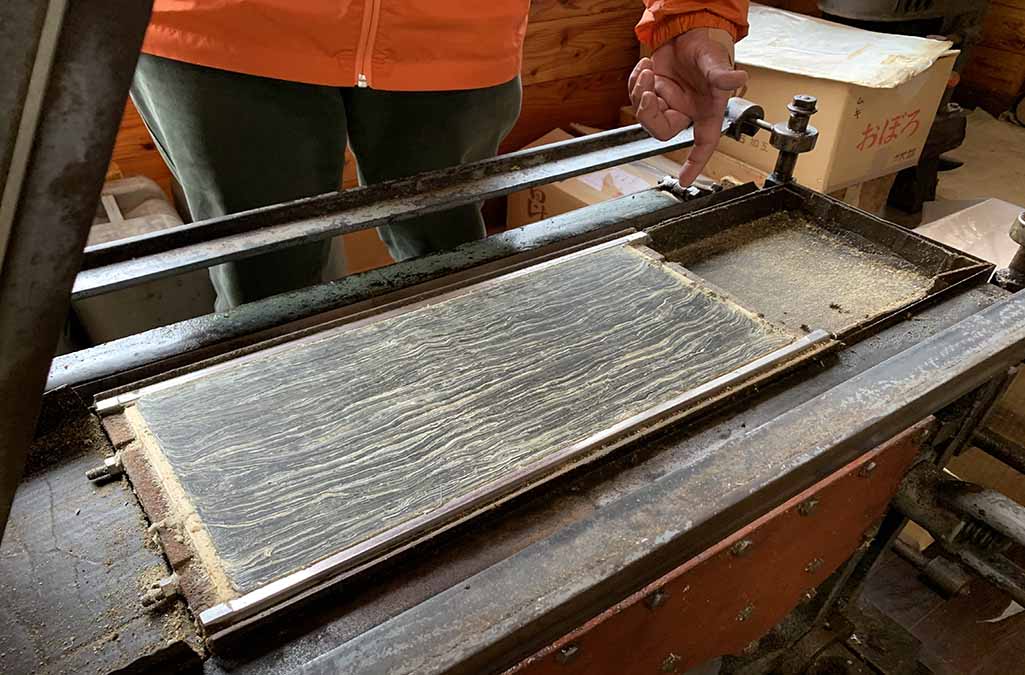 With only 10 minutes of explanation and demonstration under my belt, it was my turn! Somehow, I got into the rhythm of it by the end and rewarded a respectable 55 points for my efforts by the master himself! I walked away with my amateur attempts and also the finished professional product to try at home.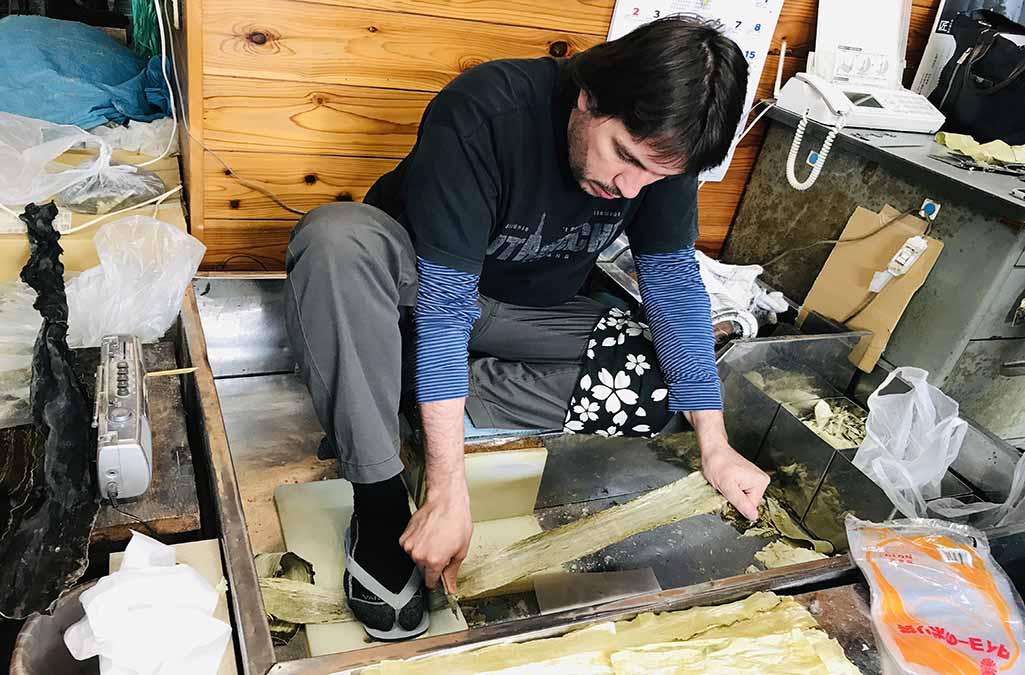 | Noukashokudou Tsukiya – Farmers cafeteria Tsukiya (Noda)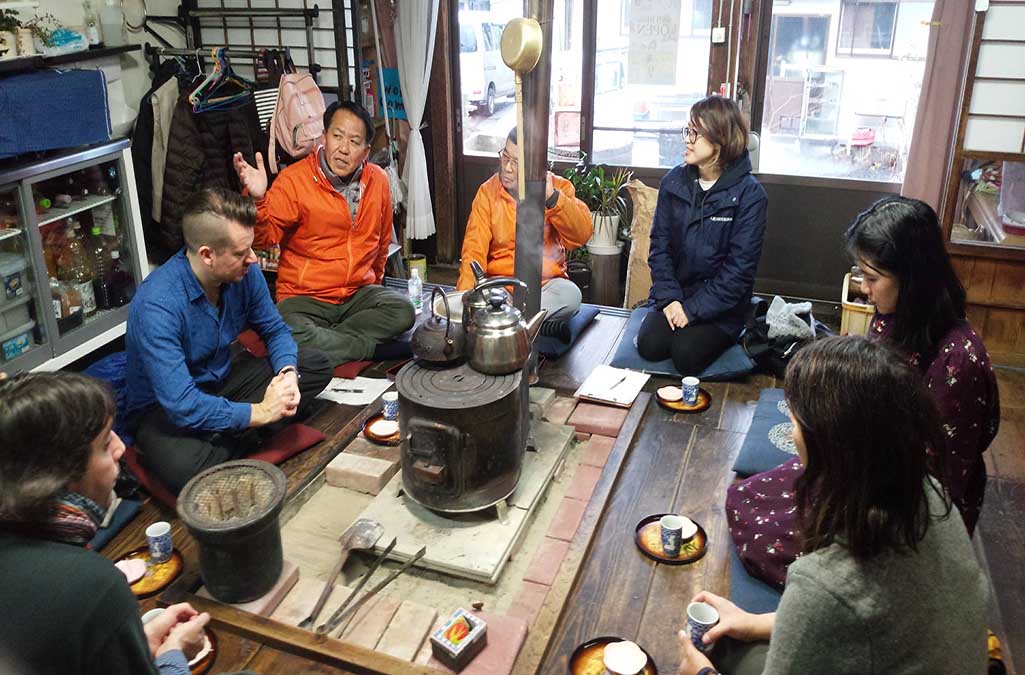 Now that we had collected all the elements of dinner, it was important to meet our host and cook for the night: Nobuko Onodera. Even before I could properly sit down, she started serving up some afternoon treats, just like my very own grandmother.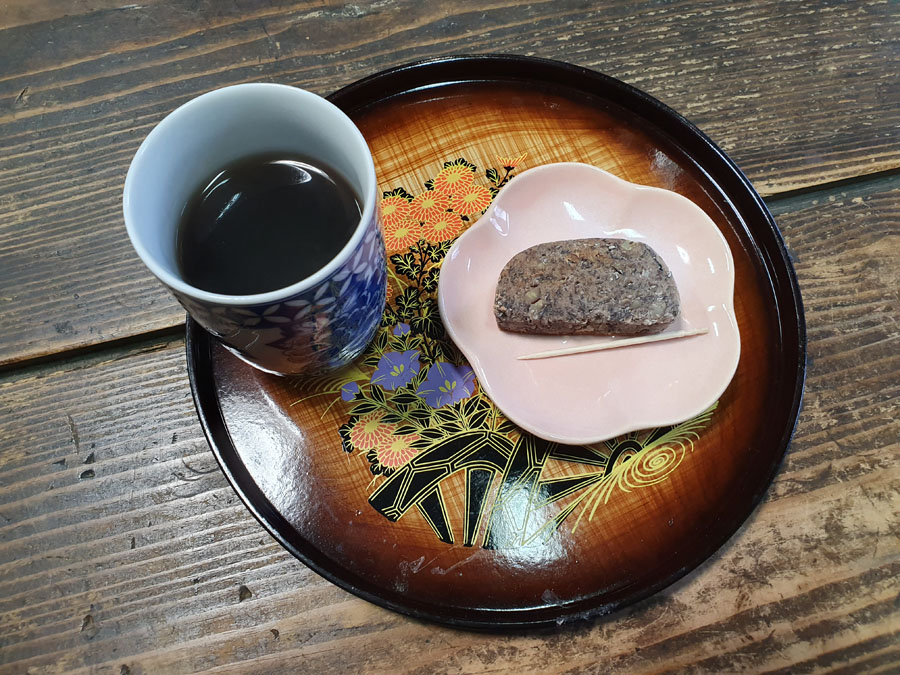 | Spinach picking
We didn't rest for long before being put back to work. I almost fell face-first into a greenhouse filled with special spinach. Sinking into the soil, we gathered two large basketfuls. Enough for dinner and breakfast!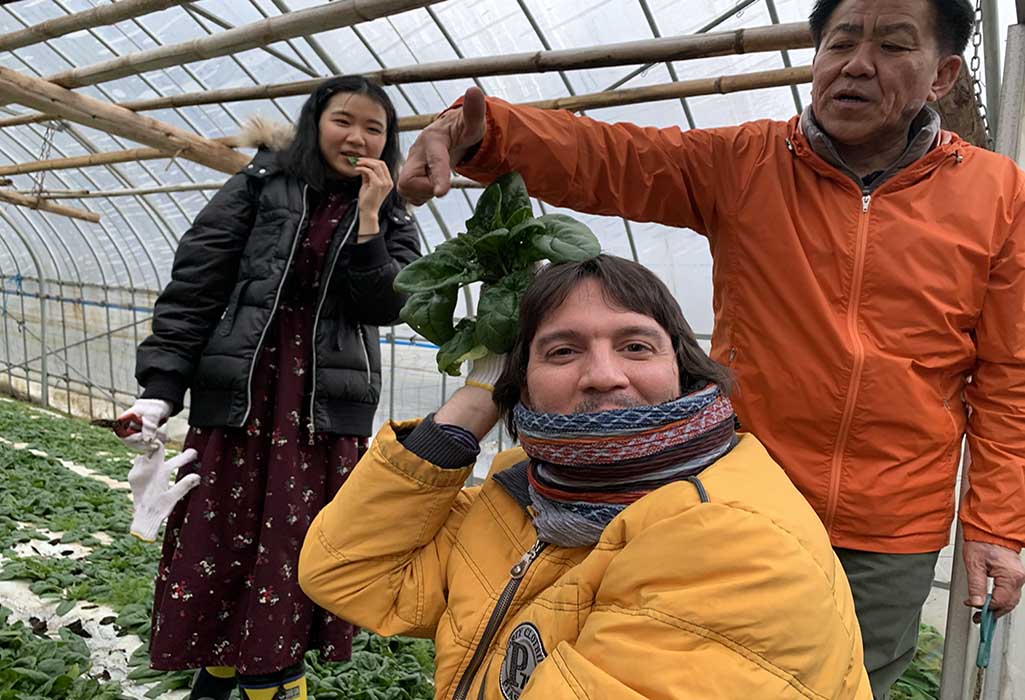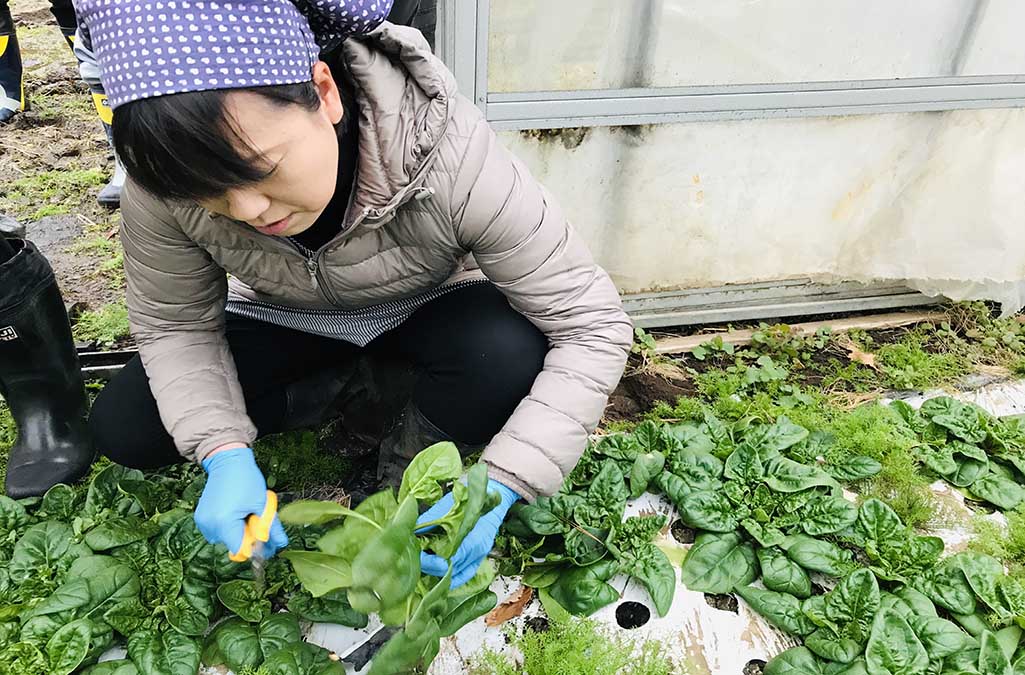 | Mochi making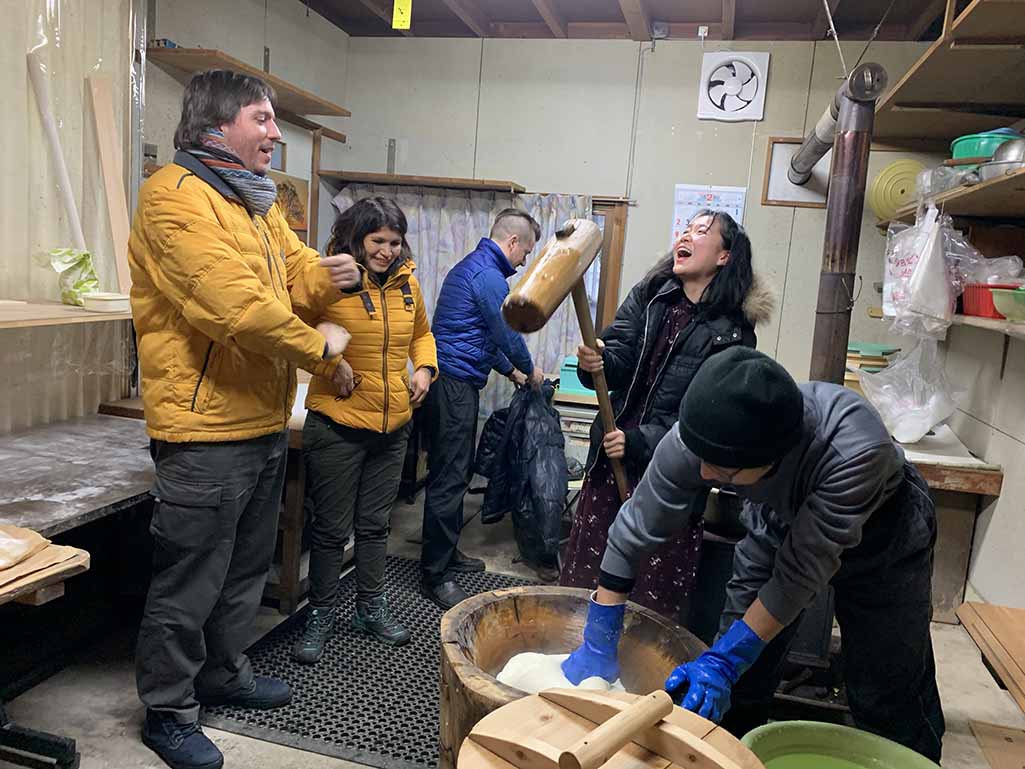 The pros started the process, while I kept a safe distance and watched. For my turn, I cursed my lack of upper body strength as I fought against the sticky rice and heavy hammer. The satisfying thud of the hammer against the rice bought a smile to my face despite my struggles. Even our guides joined in on the fun!
After making mochi, the next logical step was to eat it. A mochi course of sweet mountain grape jam, tomato sauce, and to top it all off the shaved kelp magically appeared in front of us.
| Dinner time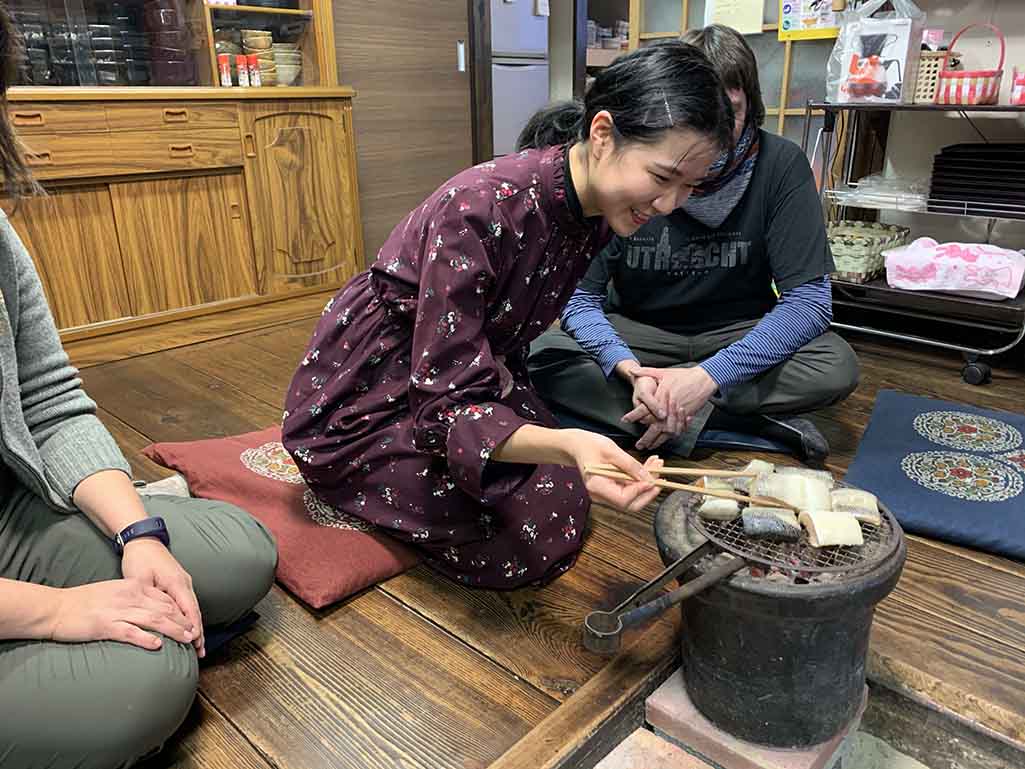 While I stuffed my face with mochi, I was simultaneously helping cook dinner! They tasked me with monitoring the salted salmon while it grilled. Even with my attention split between cooking fish and stuffing my face with mochi, the fish turned out crispy, salty and every bit as delicious as it looked.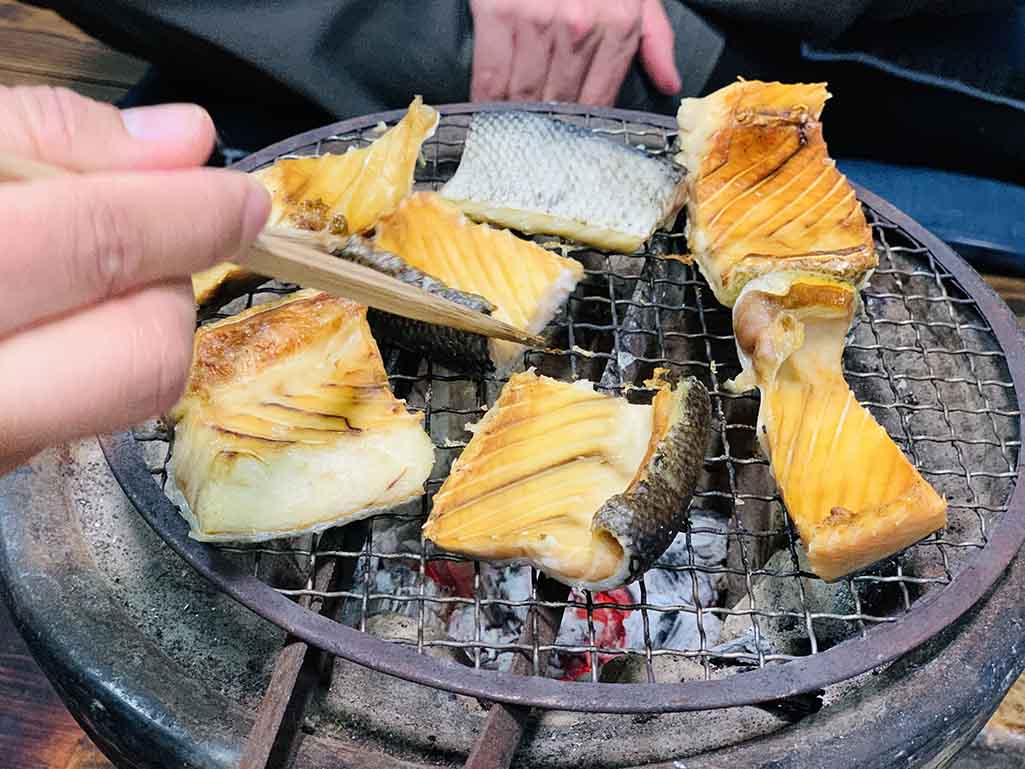 I almost choked on the black bean tofu, as some dinner guests made a special appearance. Two ferocious Namomi shook the windows and burst right into the room. Similar to Namahage that are found in Akita, these demon-faced monsters scare bad children into changing their ways. Armed knowing that the monsters were actually our guides all dressed up to impress, I couldn't help but burst out into laughter!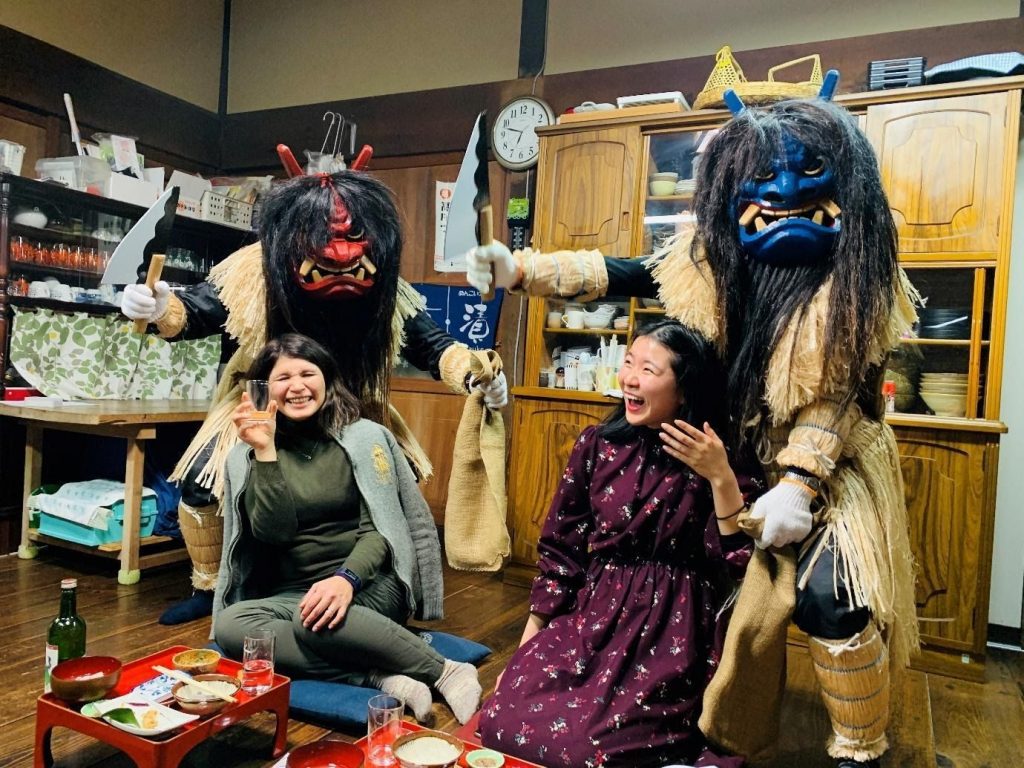 With that excitement out of the way, we were free to sip local sake and wine into the night. All the while polishing off the leftover mochi and chatting with Ms Onodera.
---
Day Two | Fishing and Trekking
| Breakfast
I thought after a day of feasting I wouldn't be able to finish breakfast. I was wrong. Although I woke up a little too late to help with any actual cooking, I pottered around laying out another impressive spread. The tomatoes were a delight. Plopped atop of rice they closely resembled pickled plums, but the soft sweet tomatoes accompanied with the tang of the vinegar left me wanting more. I could easily have 5 bowls of rice for breakfast with a generous serving of these tomatoes.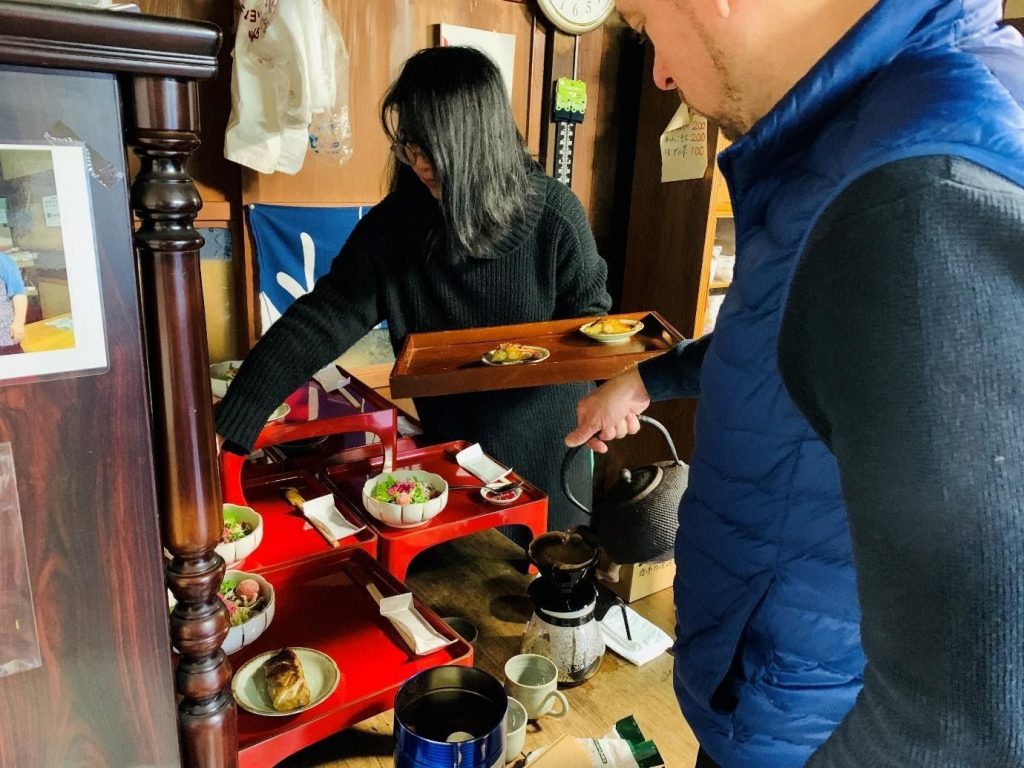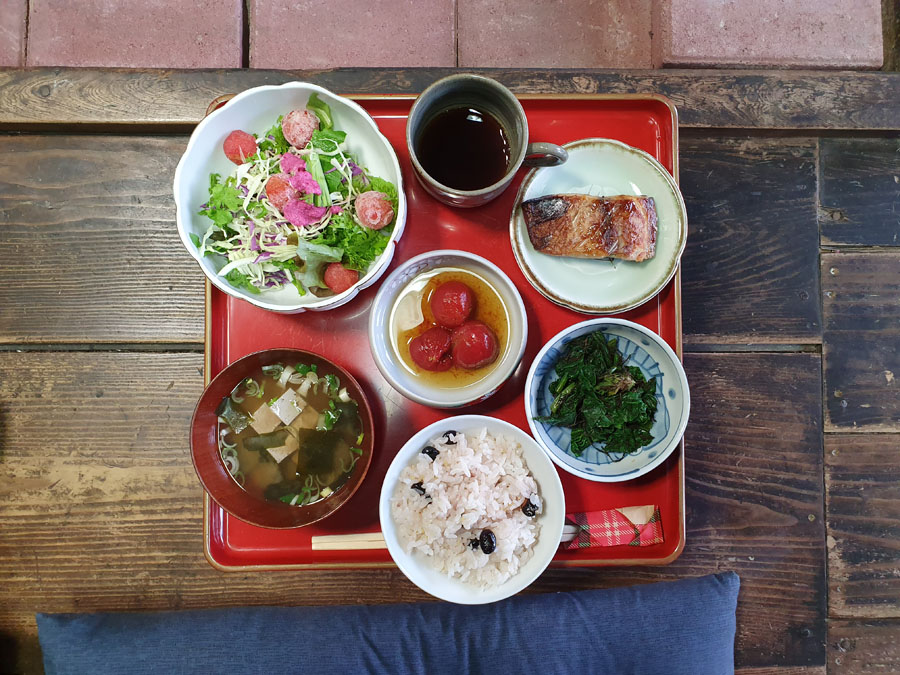 As an aside, Tsukiya also serves meals to guests who aren't staying over for the night. Even if you're just passing by, do yourself a favor and try the black bean rice, tofu and fish sets.
| Noda Fishing Port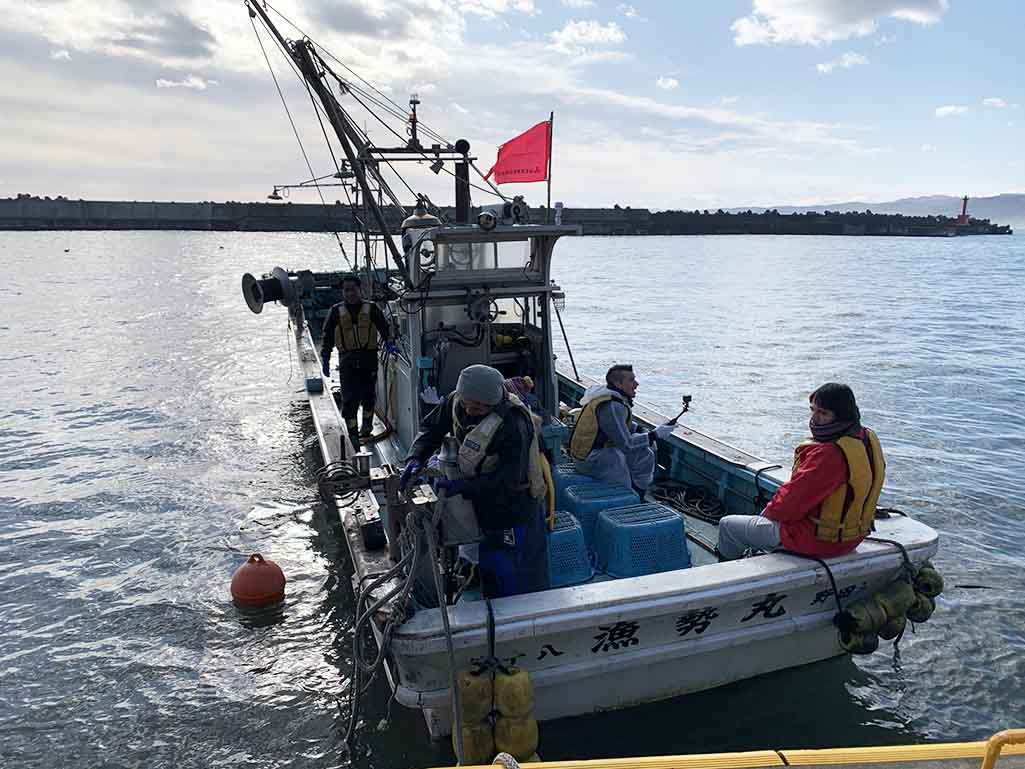 It was time to face the part of the trip I had been facing with equal parts trepidation and excitement: scallop fishing. Just a short 10-minute drive from Tsukiya is the Noda fishing port. The rain from yesterday had cleared up just in time for our journey. Although I struggled to make the jump from land to our fishing boat, it was smooth sailing afterwards. The boat rocking on the waves reminded me of a rollercoaster at Disneyland! I rather enjoyed the sudden ups and downs.
We made a brief stop to harvest seaweed before we got deeper in to the ocean. With some deft slices of his knife, our guides had amassed a sizable quantity of young seaweed. In the blink of an eye we were onto the main attraction. A whirr of noise and machinery pulled up a net of scallops from deep below the surface.
The fishermen sorted the scallops by hand before returning them back into the water to continue growing for another year. The scallop net that we retrieved housed exactly 10 scallops in each compartment. Each one raised for 2 whole years. They were almost the size of my hand! Unfortunately, the waters started getting too choppy to do any real work on the boat, so we returned to land with our bounty.
| Lunch Time
The experience wouldn't be complete without sampling our fresh catch. The fat juicy scallop was sweet and slightly salty from the ocean. The taste was subtle and insanely fresh when eaten raw, but it was the grilled ones that won my heart. Although scallops were the main dish, we were all collectively entranced by the seaweed we had harvested earlier. The brown seaweed almost instantly turned green when it hit the boiling water. It was crisp, tender and went down a treat with the accompanying ponzu sauce.
| Michinoku Coastal Trail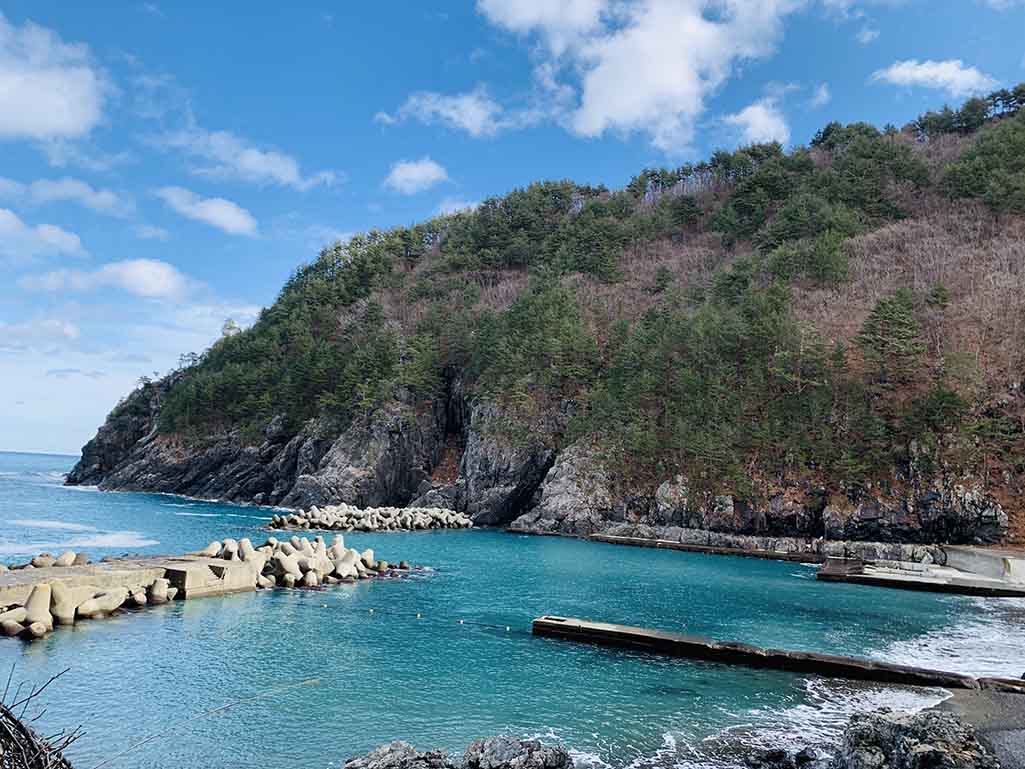 The Michinoku Coastal Trail spans more than 1000km, from Hachinohe in Aomori to Soma in Fukushima. None of us had enough time or stamina to cross 4 whole prefectures, so we just sampled a portion of this national trial. An enthusiastic Masaki Maekawa led the way. The North Iwate portion of the trail features several sandy beaches, dramatic cliff faces and interestingly enough also crosses through more industrial areas.
| Drum can bath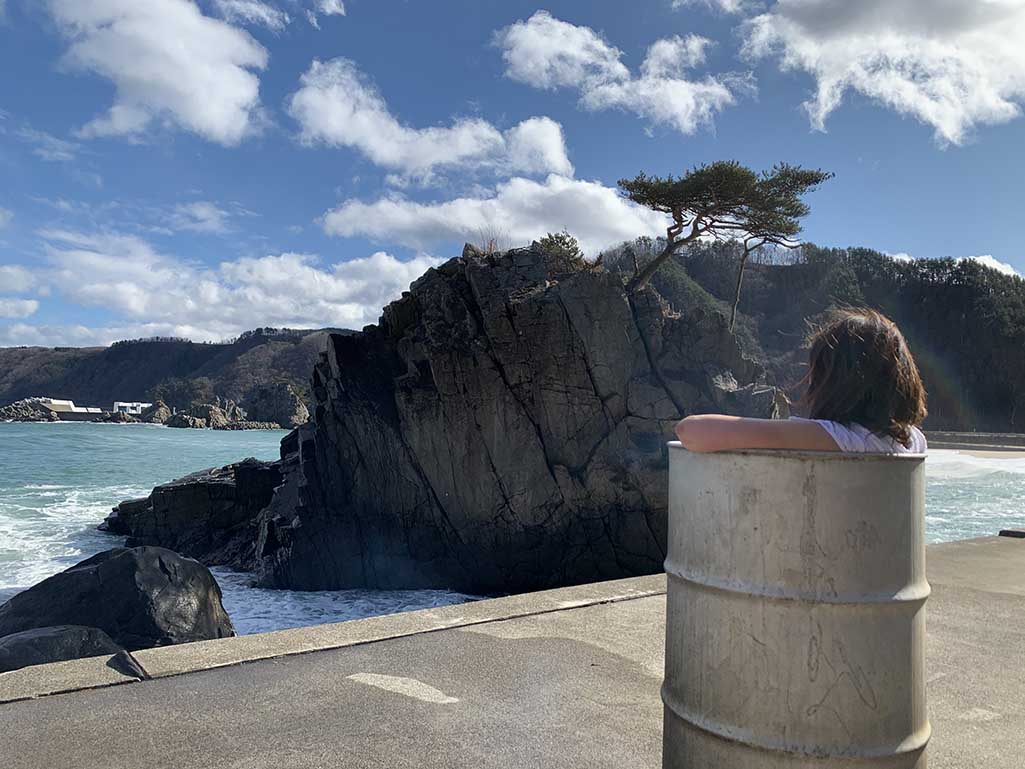 I didn't take part in this experience. The cold wind and fear of catching a cold put me off, but my traveling companion assured me that the water temperature was perfect. She could have sat in there all day. The Northern Iwate view was a sight to behold!
| Kurosakiso Hotel
Japanese hospitality meant that there was no way we could leave Northern Iwate without being fed again. Luckily for us, Kurosakisho opened up their banquet hall for a special lunch. Chirashi sushi and noodles both had seaweed on them. Speaking of the seaweed noodles, we had the option of bite-size mouthfuls or cooking giant 3 meter strands into boiling broth. I managed to spill my noodles on the table and into my bowl.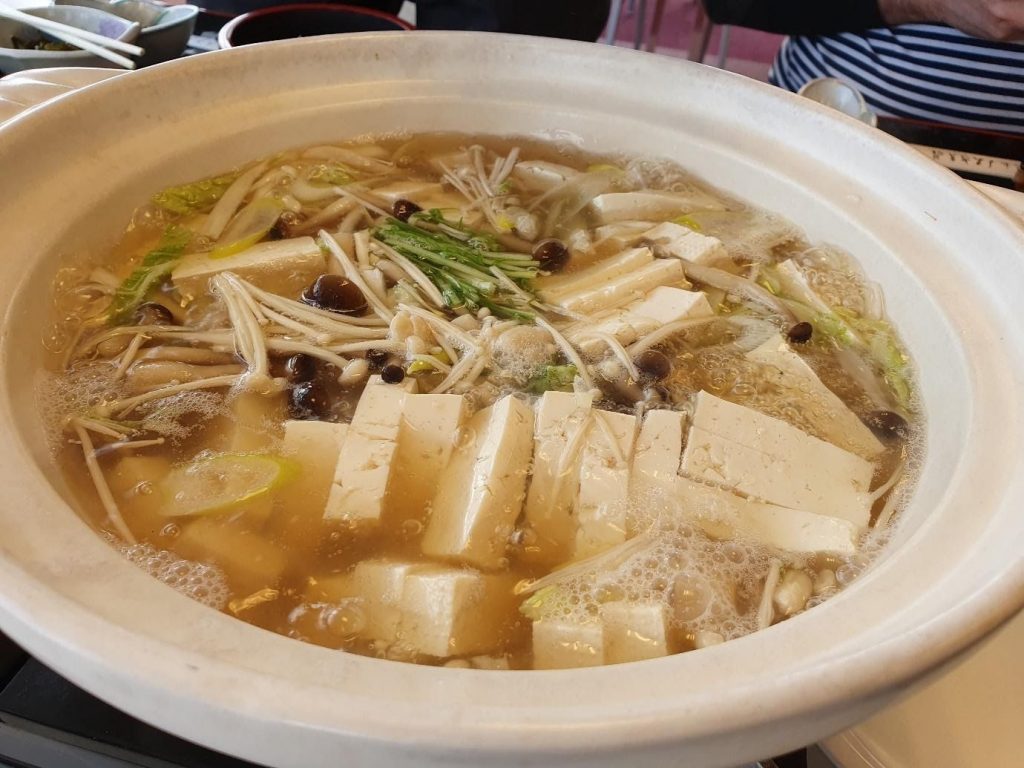 I left Northern Iwate, with the salt from the sea in my hair and the warmth of the midday sun on my back. In just 2 days, I had been positively stuffed with delicious seafood and a schedule that was just as stuffed full of unique experiences. From an unknown mystery to a repeat destination, northern Iwate got me falling in love with Tohoku all over again.
Check out our other articles in Iwate :
Historical Adventures and Naked Fire Festival in Iwate
Get Haunted To Riches
Gourmet Tour, Iwate Town
---