As an onsen (hot spring 温泉) fanatic who will stop at nothing to visit the most unreachable ones, I can say if you truly crave for an unforgettable and rejuvenating onsen experience, you must visit Kurokawa Onsen.
Why?
Located deep in the mountains of Kumamoto prefecture, the secluded onsen town is surrounded by bountiful amounts of nature. Devoid of the concrete multi-story hotels and touristy shops often seen in commercialized onsen towns, Kurokawa Onsen has kept its traditional roots with wooden buildings, earthen walls, and stone stairs.
Just hearing the sound of the rushing river, taking in the luscious greenery, and walking through the pleasant and peaceful atmosphere permeating throughout the quaint town, I felt my body and soul, wearied from the daily troubles of urban life, slowly loosen and relax.
But the main charm of Kurokawa Onsen lies in their wonderful outdoor baths known as rotenburo (露天風呂) from many of the town's ryokan (旅館), a traditional Japanese inn. There are over twenty-five ryokan, and many of them are located in the town's center which can easily be explored by foot. So to take advantage of my brief escape from reality to unwind, I went onsen-hopping!
Let's Go Onsen-hopping!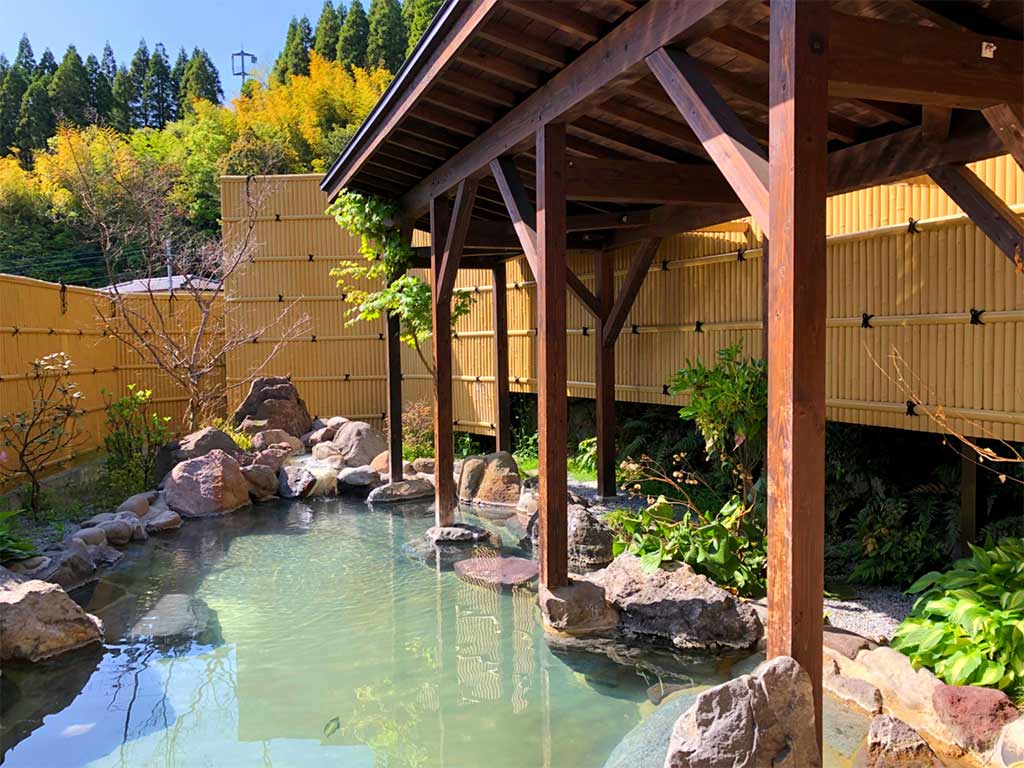 To get started on your own journey of onsen-hopping, you will need to purchase a wooden pass (tegata 手形) at the visitor center. Each one costs 1300 yen (700 yen for children) and will provide you admission to baths of three different ryokan of your choice.
Each participating inn will have its own business hours when the baths are available for guests. You can check daily on the town's site to see which ones are open, or you can ask the attendants at the visitor center. They will have the most up to date information and can give you helpful advice!
When my partner and I were struggling to decide on which of the many baths to visit first, they kindly saved us from the trouble by mentioning that ryokan Yamabiko had the most popular and largest rotenburo in Kurokawa Onsen, and it was only open to women that day, with the next day being for only men. I happily went to take a dip while my partner decided to visit another bath they recommended.
Onsen Mania
During my two day stay, I visited a total of six onsen (excluding the inn I stayed at). And those baths made me fall in love with Kurokawa Onsen. Yes, I went crazy but I had to, and you should as well! You rarely find onsen towns so compact where you can easily jump from luxurious ryokan to ryokan with picturesque baths near rivers and small waterfalls that have amazing onsen water, and be able to do so at such a price!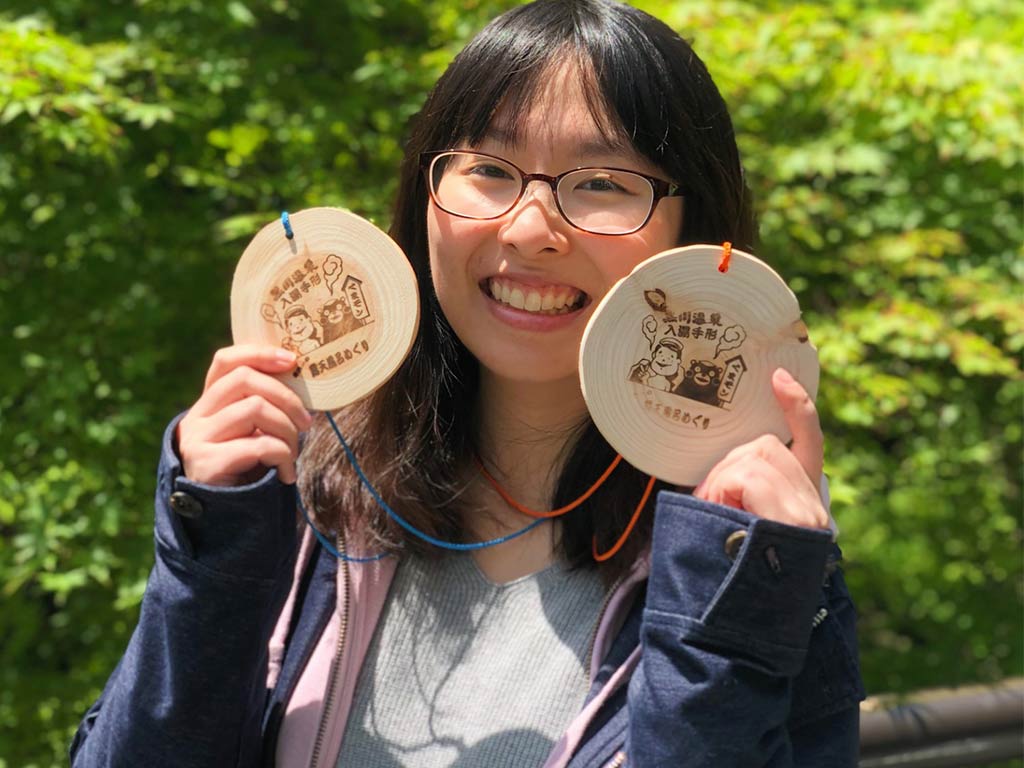 Not just that, when you present the wooden pass at the front desk of each inn, as proof of your entry, they will stamp the back. You can have fun collecting all the personal stamps of the ryokan, and enjoy the various types of baths, with many having different water properties that can help relieve ailments to beautifying skin, at the same time! Your tegata will become a great souvenir to bring back home!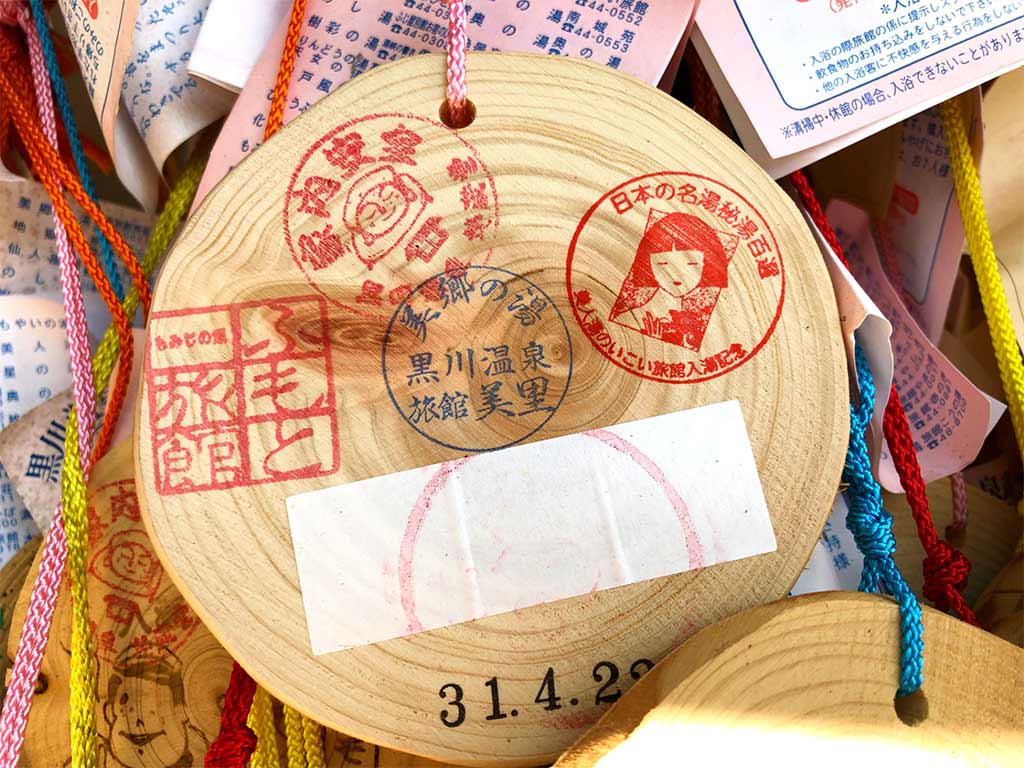 Other Fun Things to Do in Town!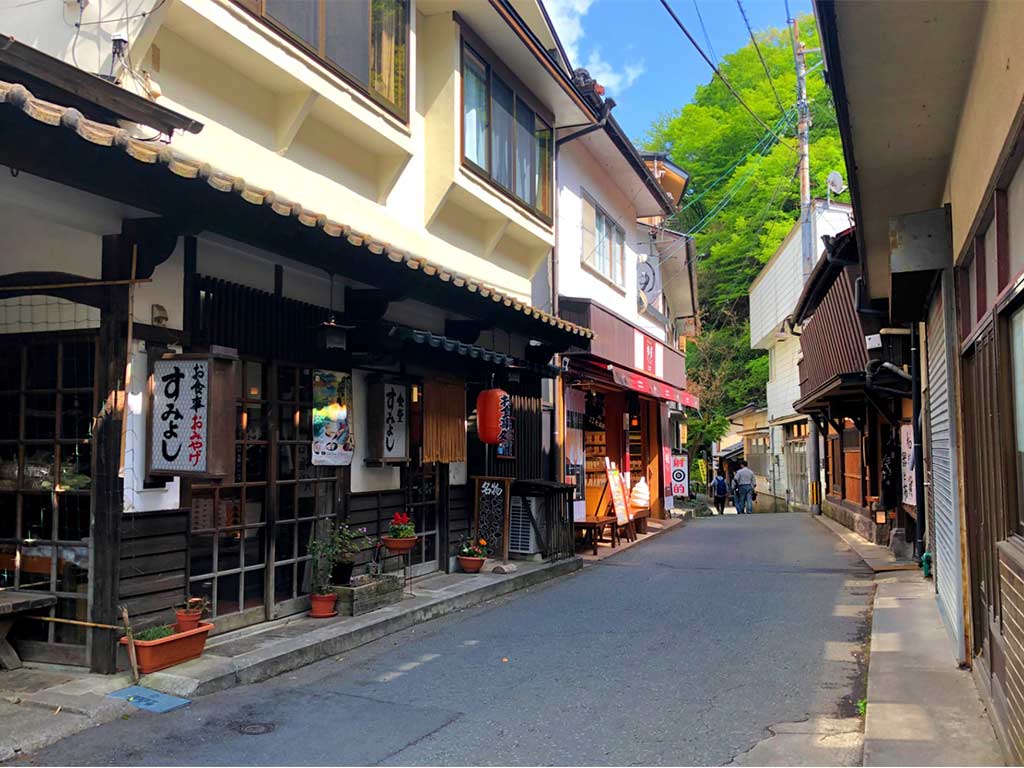 In between your visits to the different baths, do not forget to explore the streets for cafes, restaurants, and boutiques where you can shop for ceramics, wooden crafts, and more.
If you have a sweet tooth like me, you must try the creamy Jersey Milk ice cream from the nearby Mt. Aso region, and visit Patissiere Roku for their delectable crunchy cream puffs, and Sugiyohoen for their popular honey soft swerve.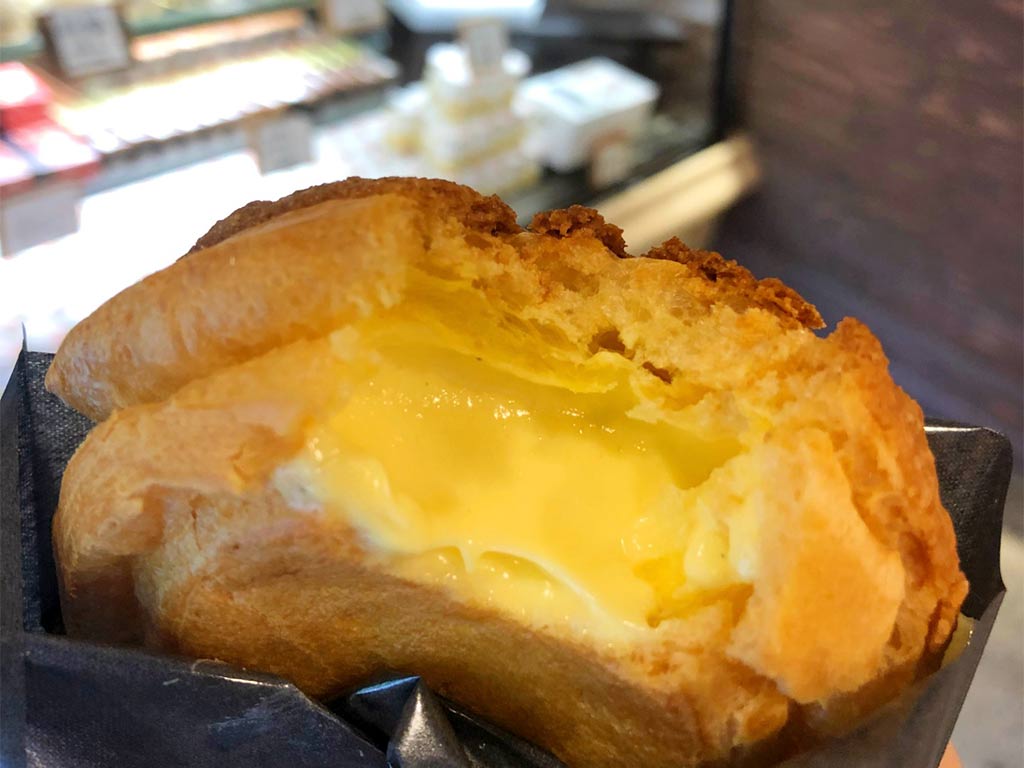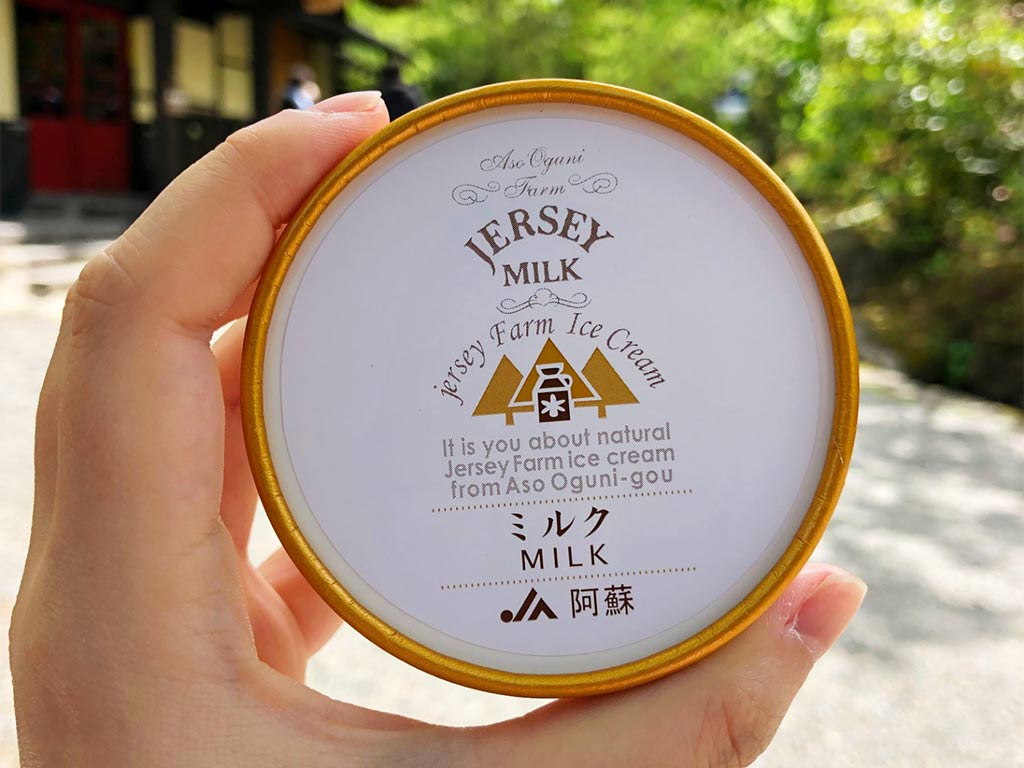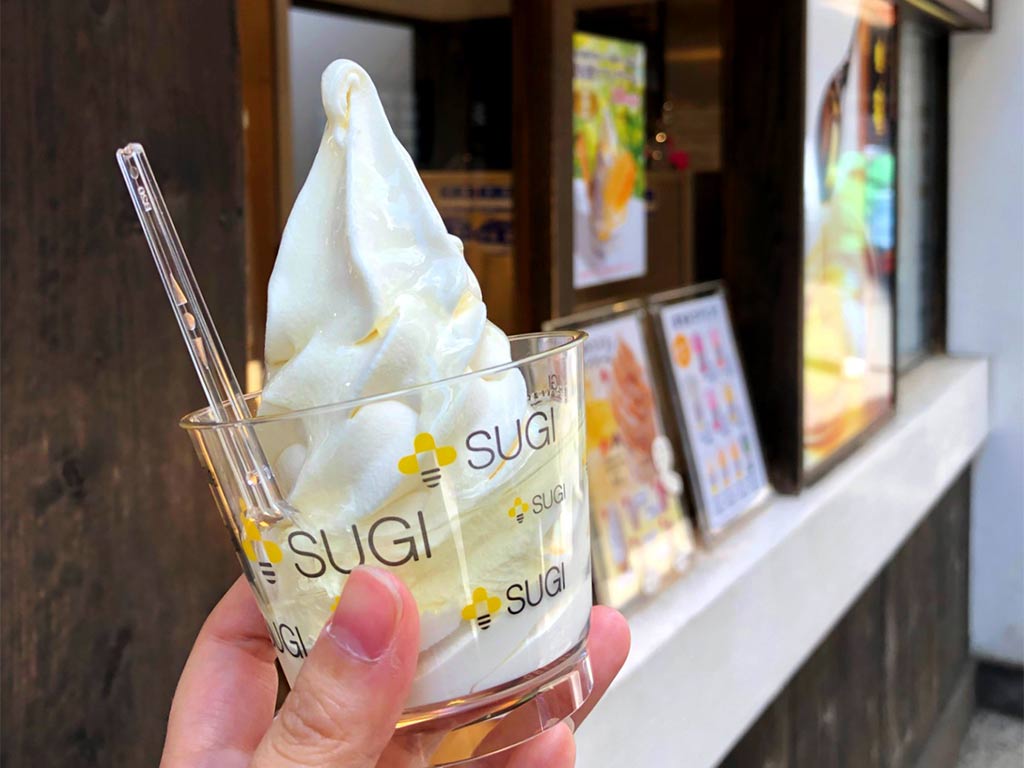 If you want to try Kumamoto's famous horse meat then head over to Ufufu! But if you prefer fresh tofu and vegetables like my partner and I, we recommend Tofu Kisho!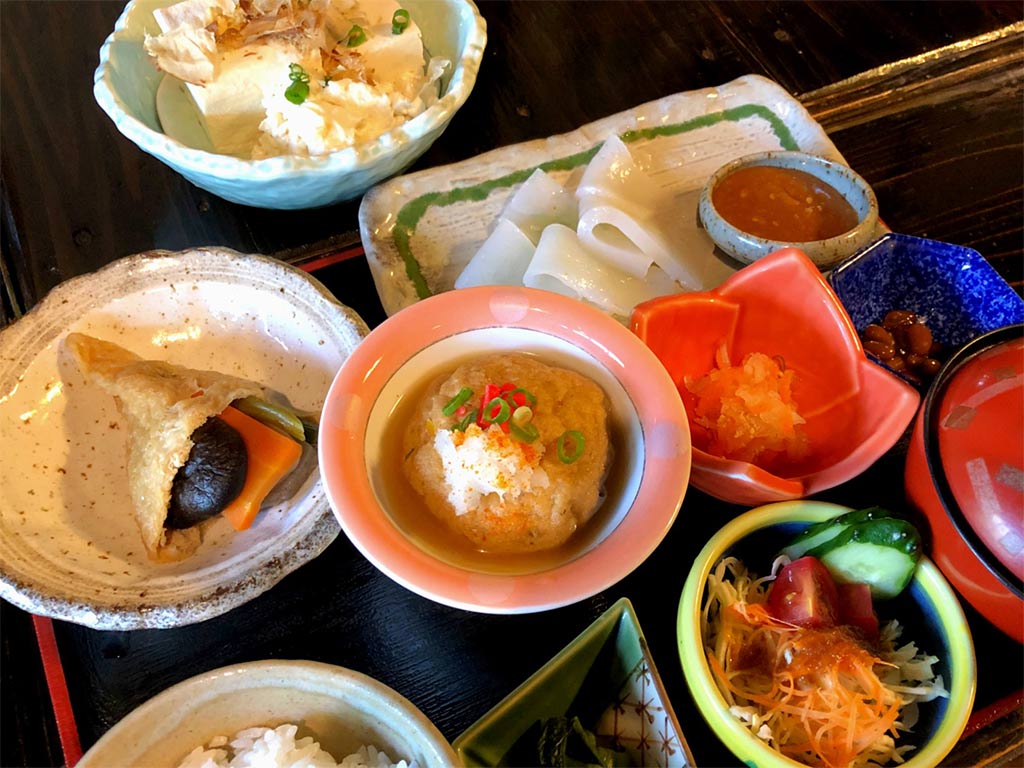 Last Tips
A ryokan I recommend to the ladies is Ikoi. Their waters are known to help smooth and soften your skin, and I can vouch that it felt silky to the touch. But what I loved the most was their standing onsen! In a deep bath, two wooden logs hang from the ceiling for you to hold onto as you let your tense body relax. I walked out of this inn happier than ever.
Also, some of the rotenburo in town are mixed gender and you can avoid these if you feel uncomfortable. I definitely did but because I stayed at Oku no Yu (one of the few), I was able to enjoy their outdoor baths which were reserved for women from 8-10 pm. If I was not an overnight guest, I would have never seen the beautifully lit up waterfall nearby or been able to experience my first cave rotenburo.
You can visit Kurokawa Onsen as a day tripper but to really savor your time here, I recommend staying overnight at one of the ryokans in the area. No matter which one you choose, you will be pampered by their great hospitality, stuffed from their delicious kaiseki (traditional multi-course Japanese meal), and of course, feel refreshed by leisurely dipping in their 24/7 baths.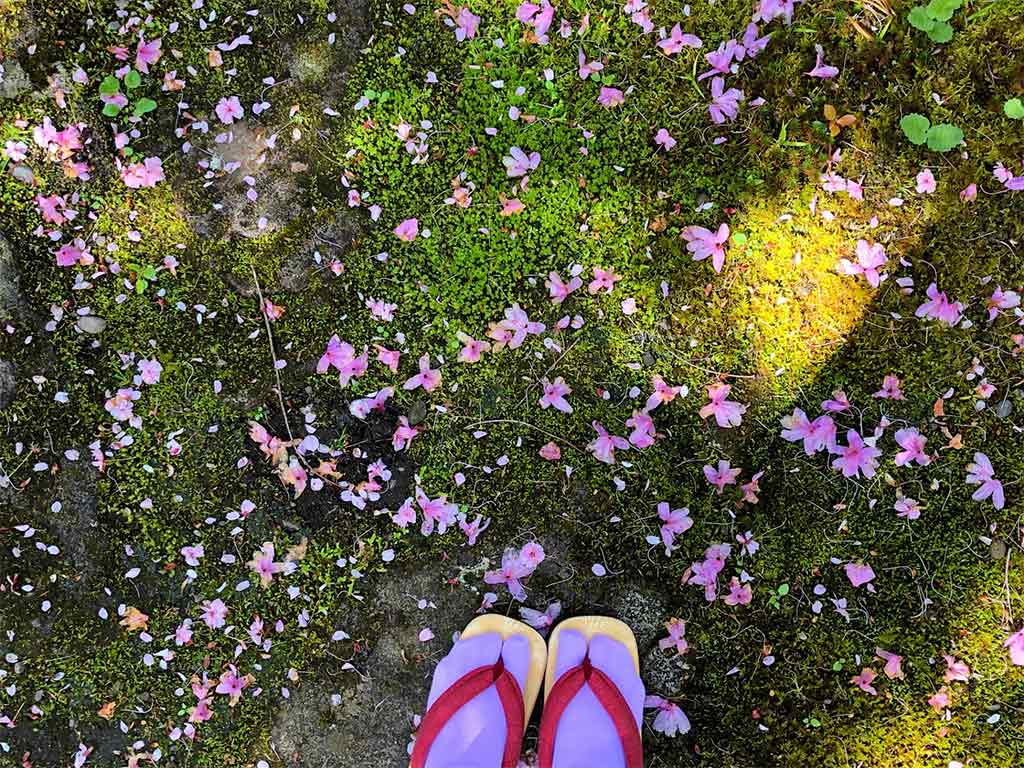 Access:
From Hakata Station or Fukuoka Airport International Terminal → 3 hour express highway bus From Kumamoto Station or Kumamoto Airport → 3 hour express highway bus
Check out STAY JAPAN to book a stay in when you travel to Kumamoto and enjoy the same experience as Shella.
---