I often daydream about the day I would become so rich that my days would consist of horseback riding on the beach, sailing the sea on a yacht, and feasting on high quality barbecue in the comfortable sunshine. One can only dream, right? Except… I recently did just that, while skipping the whole "become-filthy-rich" prerequisite beforehand. You may wonder, how is that possible? Well let me tell you about Marina Kawage, a hidden gem on the Mie coast. Here, you can live out your fancy rich fantasies, even if only for a weekend!
| First on the itinerary: horseback riding!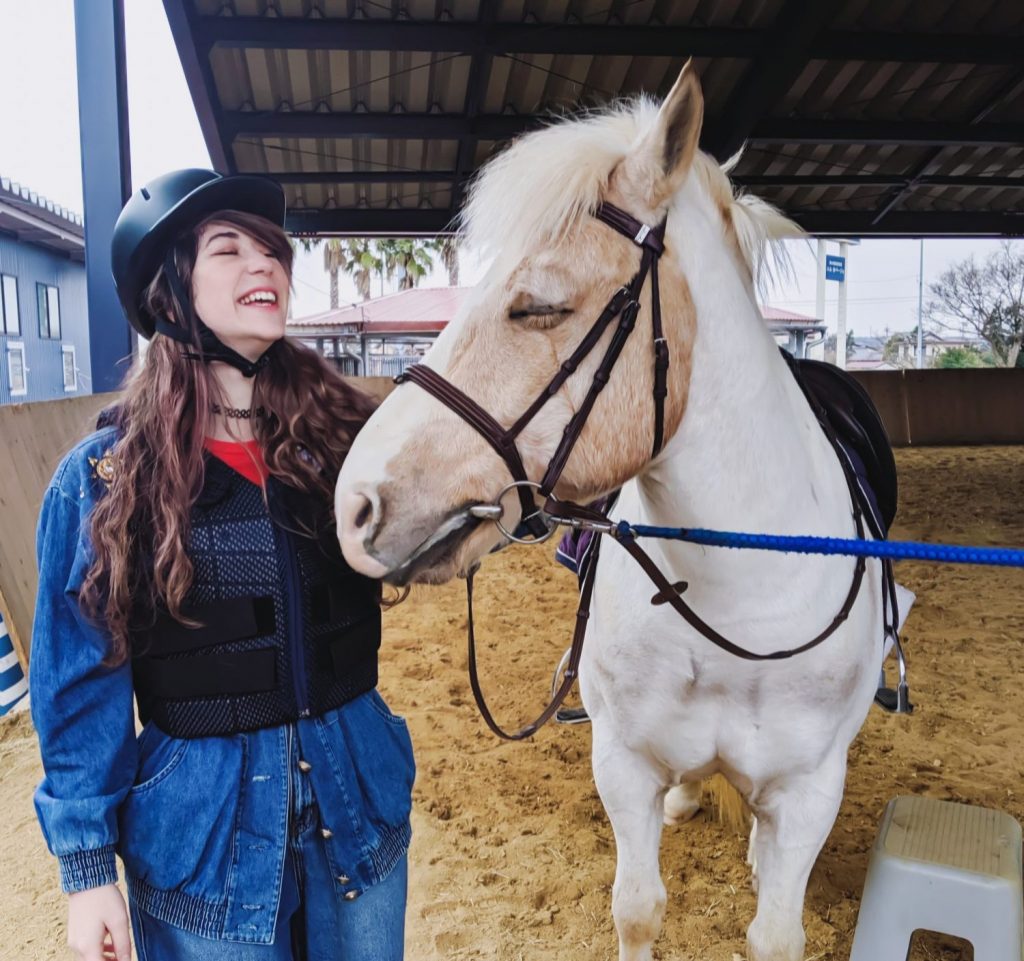 I was always a bird lover growing up, but after getting up close and personal with the beautiful horses at El Caballo, I started to second guess my animal favoritism choices. After suiting up in my fabulously flattering horse-riding gear, I had the pleasure of riding on an adorable pony called Poco. My friend and I got to enjoy riding the horses under a shelter to avoid the rainy weather that day. On a sunny day, you also have the option to trek on the beach with the horses! Check out their website at: https://elcaballo.jp
After our riding experience, we visited the stable to interact with the horses more closely. I've never pet a horse before, in fact, I was quite terrified to do so despite their gentle demeanor. My hair must have looked like a tasty snack to them as well. If I got too close, they would try to get a nibble of it!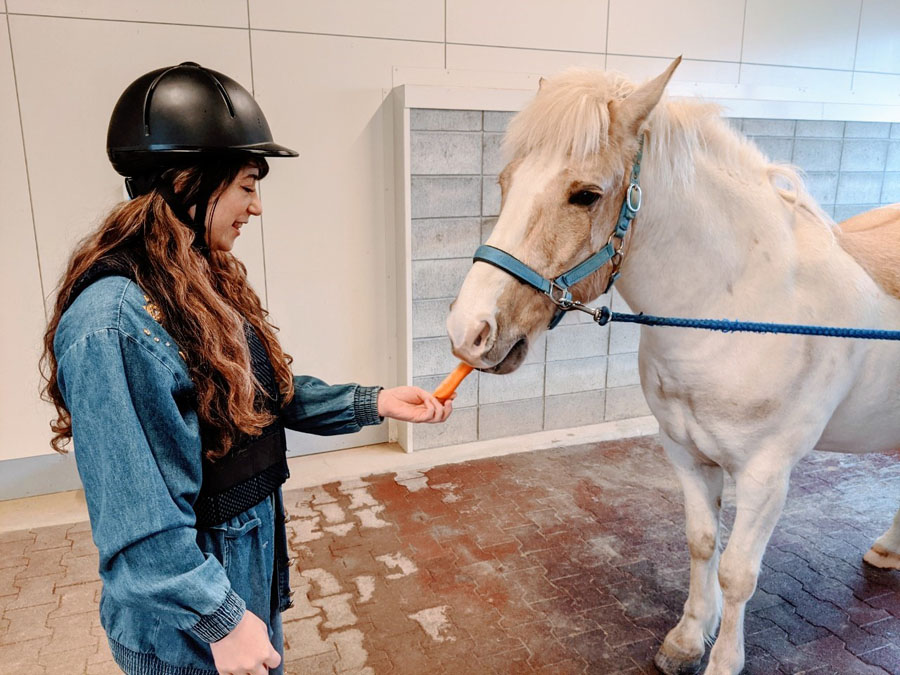 We then had the chance to feed them some carrots. I couldn't stop smiling while watching the carrots quickly disappear from my hands as the horses happily gobbled them up. During my interactions with the horses, I noticed how each one had their own unique, cheeky personalities. I remember my time at El Caballo so fondly. Now I can't wait for the next time I can saddle up and ride again!
| Next up, the luxurious yacht ride along the Mie coast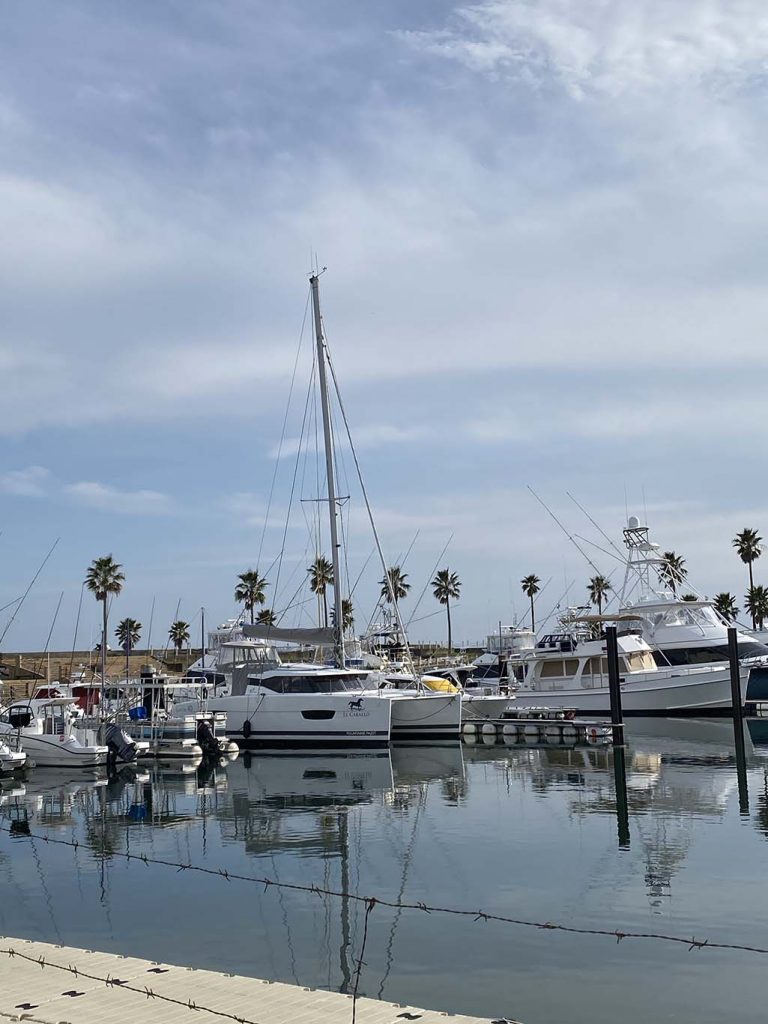 I used to think there are only two ways to ride a yacht: be wealthy and purchase one, or be friends with someone who owns a yacht. I never thought about the possibility of a third option: renting one in Mie at Marina Kawage! If you grab a few friends and divide up costs, cruising along the ocean in a pristine yacht with crew included is quite feasible. You can observe rental options here: https://toppage.iseshima-charters.com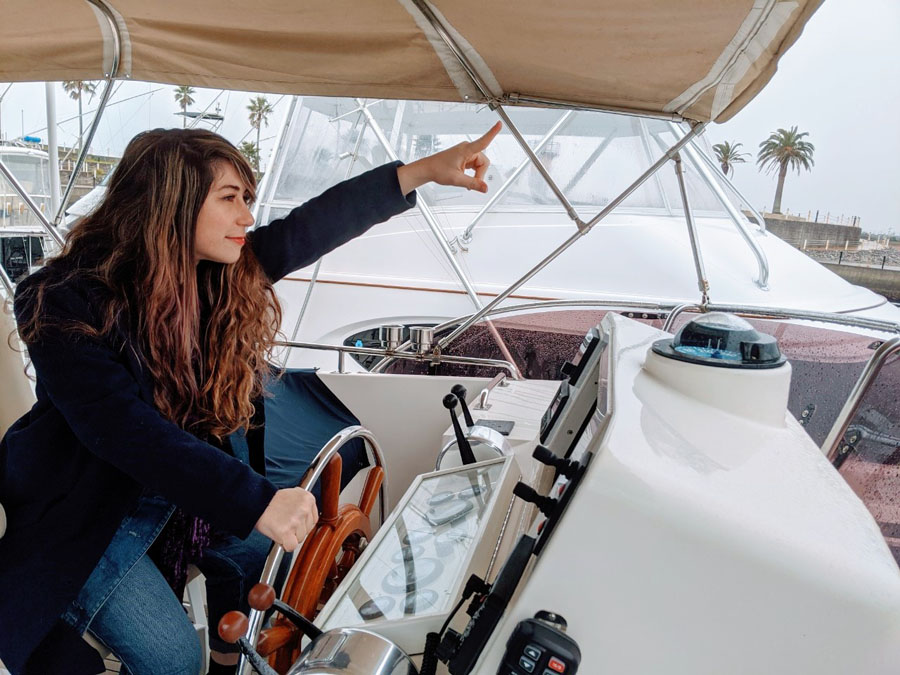 Sailing the sea on a bright and sunny day is optimal for this kind of activity, but the rain wasn't going to stop us from our adventures. I was still able to appreciate the glamour of cruising around on a private boat, rain or shine. Watching the waves curl behind the yacht into an elegant wake was mesmerizing. Taking pictures aboard the yacht was endlessly entertaining as well, because even though my hair was a mess from the wind and my outfit was terrifically casual, I felt like royalty in each photo. It must be the charm of being in Marina Kawage.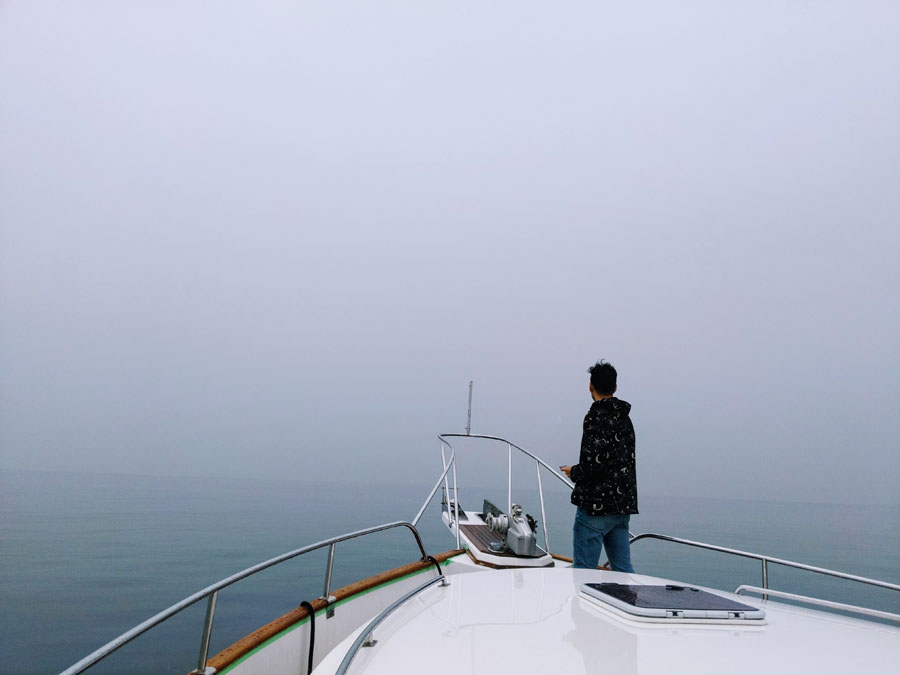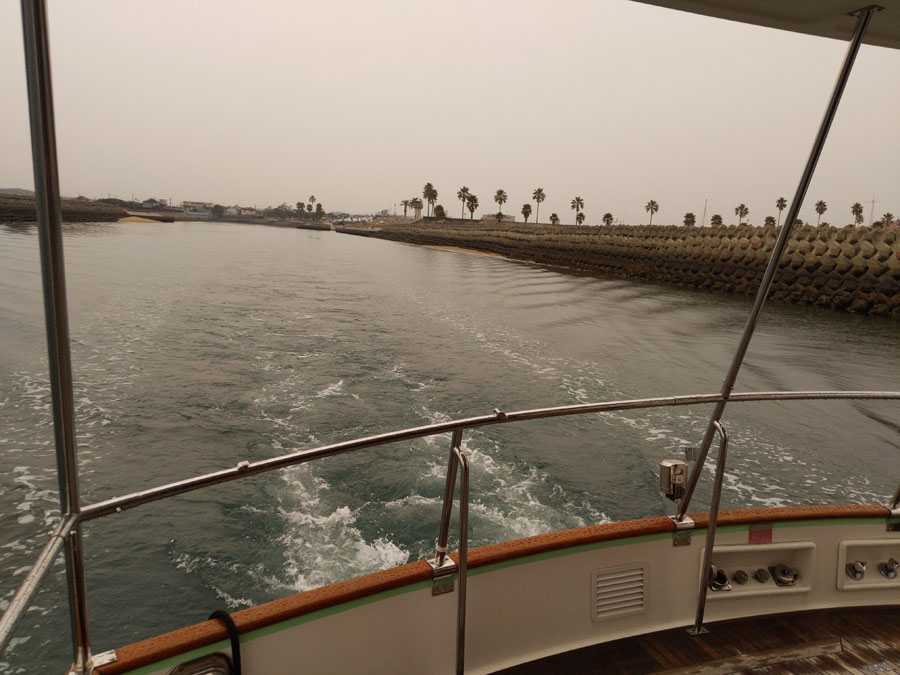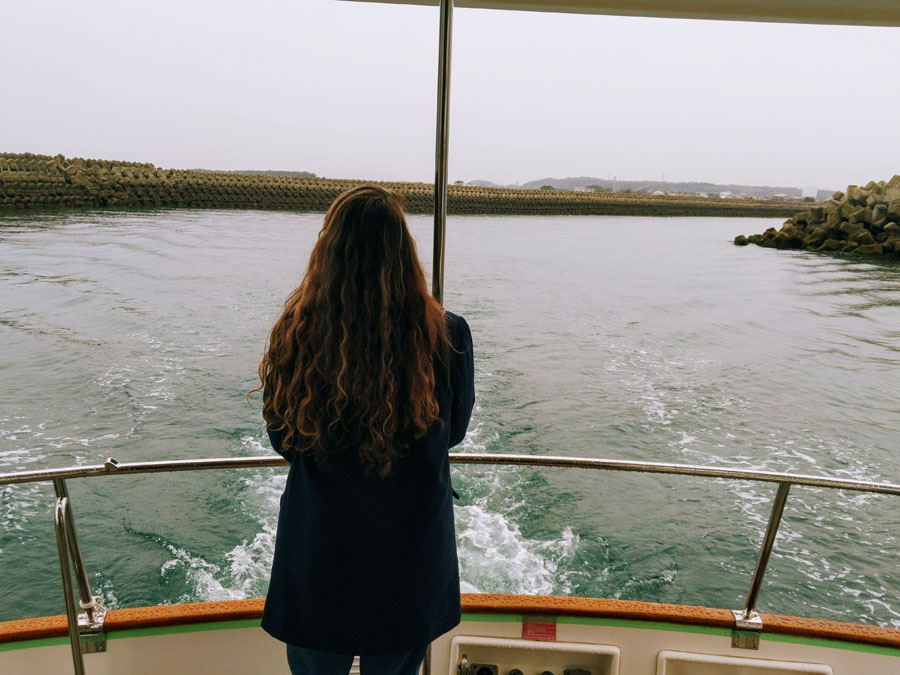 My favorite part about the cruise was the scenery before us. I was amazed at how crystal clear the water was. Fog from the cloudy weather engulfed our vision when we moved to the tip of the bow, which I found to be utterly mystifying. Sunny or cloudy, witnessing how vast the ocean was and pretending to be sailors drifting into the unknown was a memorable experience.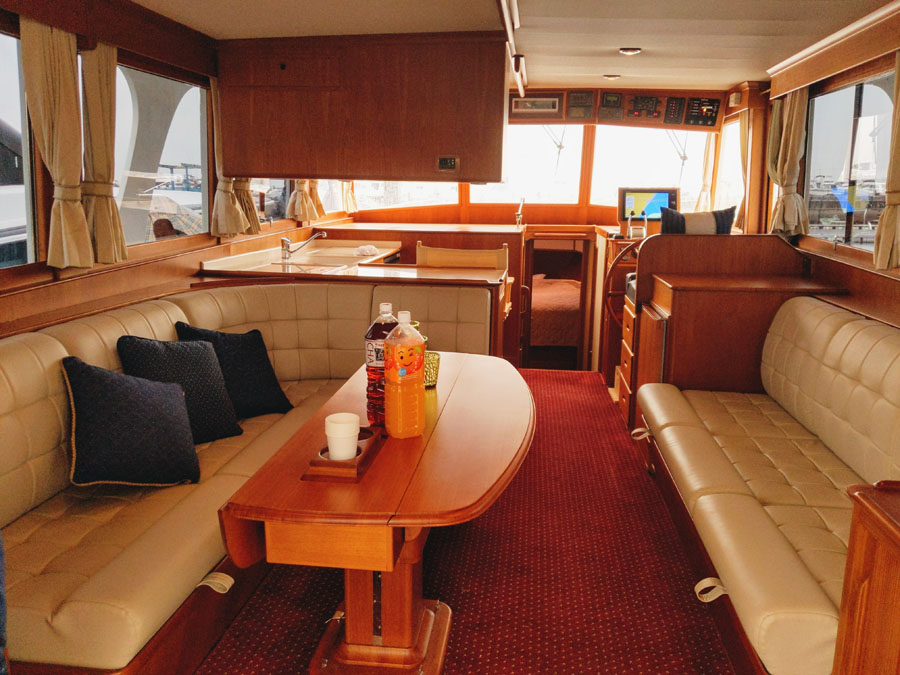 The inside of the yacht had a comfy atmosphere adorned with a warm wooden interior and crimson carpeting. It was perfect to relax in after we had our fill of excitement at the front of the boat. We grabbed a cup of Nachan orange juice and warmed ourselves up by the heater.
| It's time to get spiritual at Takada Honzan.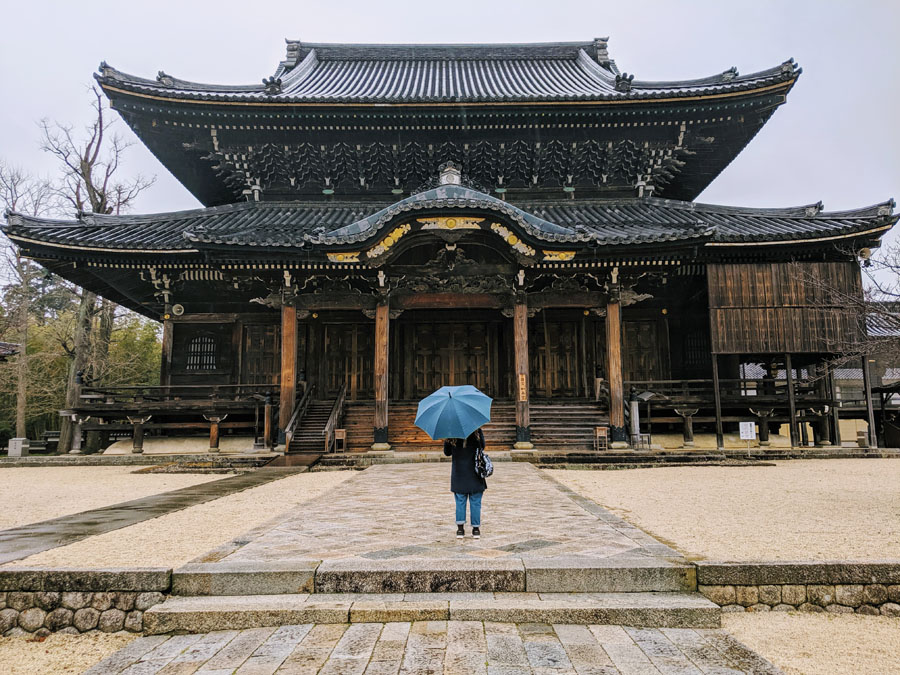 After an action-packed day, we winded down with a serene visit to a nearby Buddhist temple not to far from Marina Kawage. We had the place to ourselves since no one else thought to come during a rainy day. I'm not a fan of overcrowded places, so this worked out nicely for me.
There is so much charm to be admired about empty temple grounds: the sound of raindrops filling stone basins, noticing how small you are in comparison to the architecture around you, and being at peace with nature. Let's not forget the beautiful photo ops that can be taken advantage of when there's no crowd!
| Let's eat, shall we?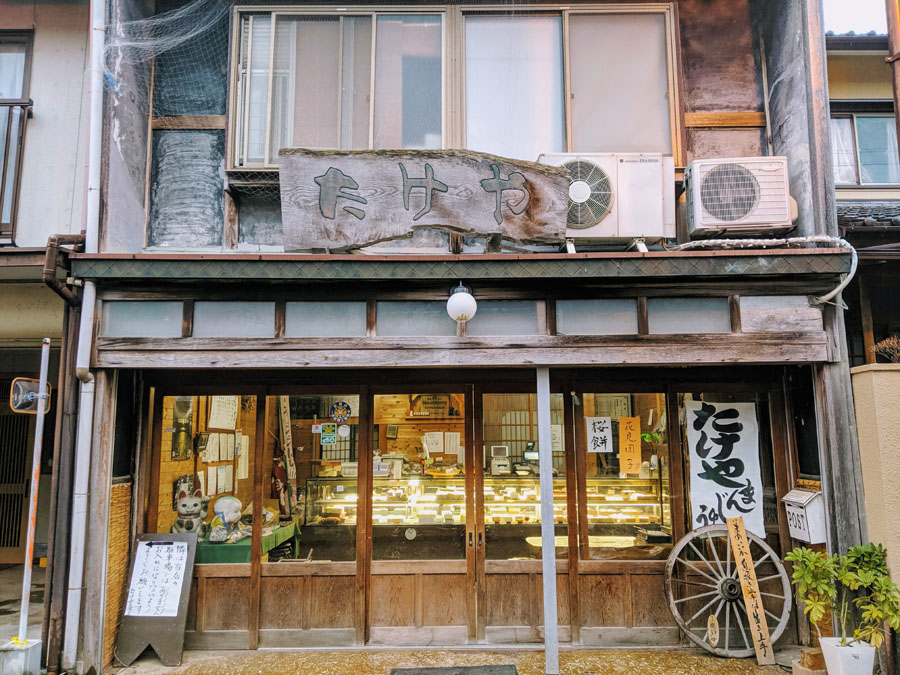 As the evening became colder, we decided to warm ourselves with some tasty treats from a local sweets shop called "Takeya". If you have read my other blog, you'll know that I don't usually have a craving for wagashi, which are traditional Japanese sweets. Nonetheless, I decided to try out a manju (a steamed bun) filled with smooth anko paste. The shop owner enthusiastically prepared our treats and warmed them up for us.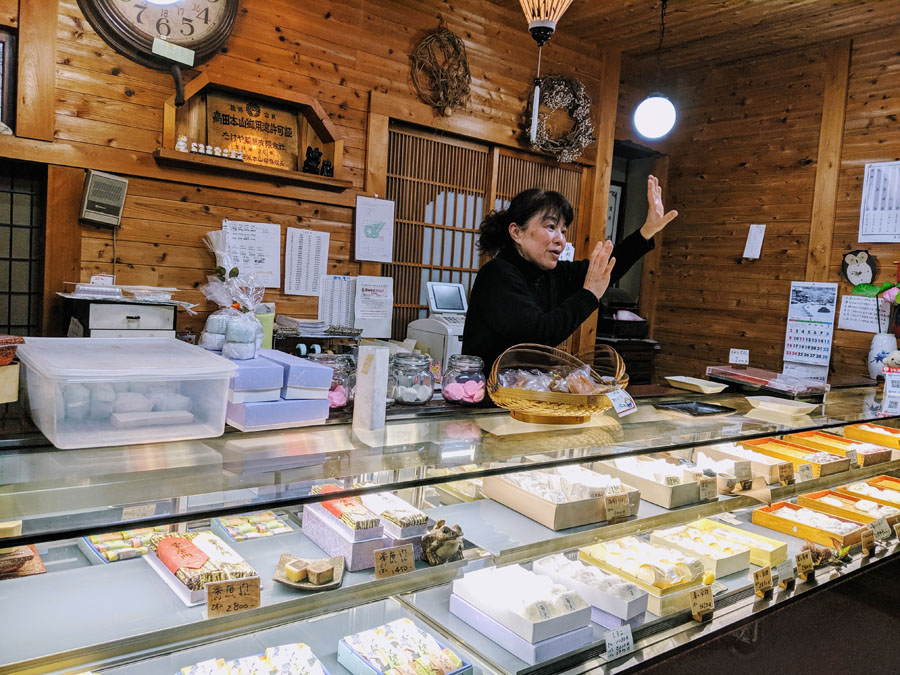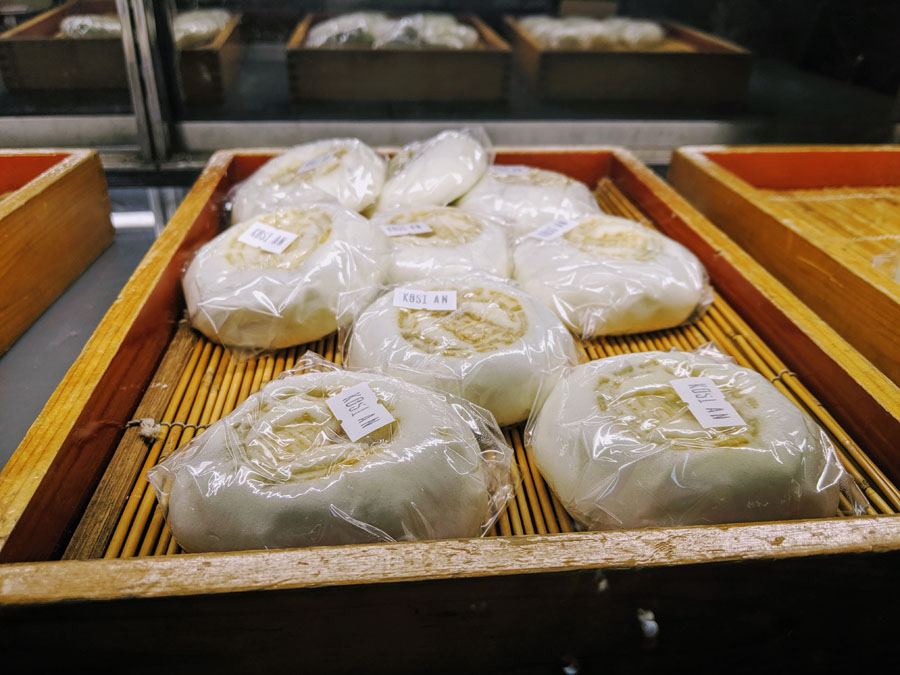 I have to be honest, I was absolutely astonished how delicious it was! I was not expecting how the warm, saccharine flavor of the anko would instantly melt onto my taste buds. This is coming from someone who regularly avoids anko. I could tell the sweets were made with love and care, and would definitely return in the future.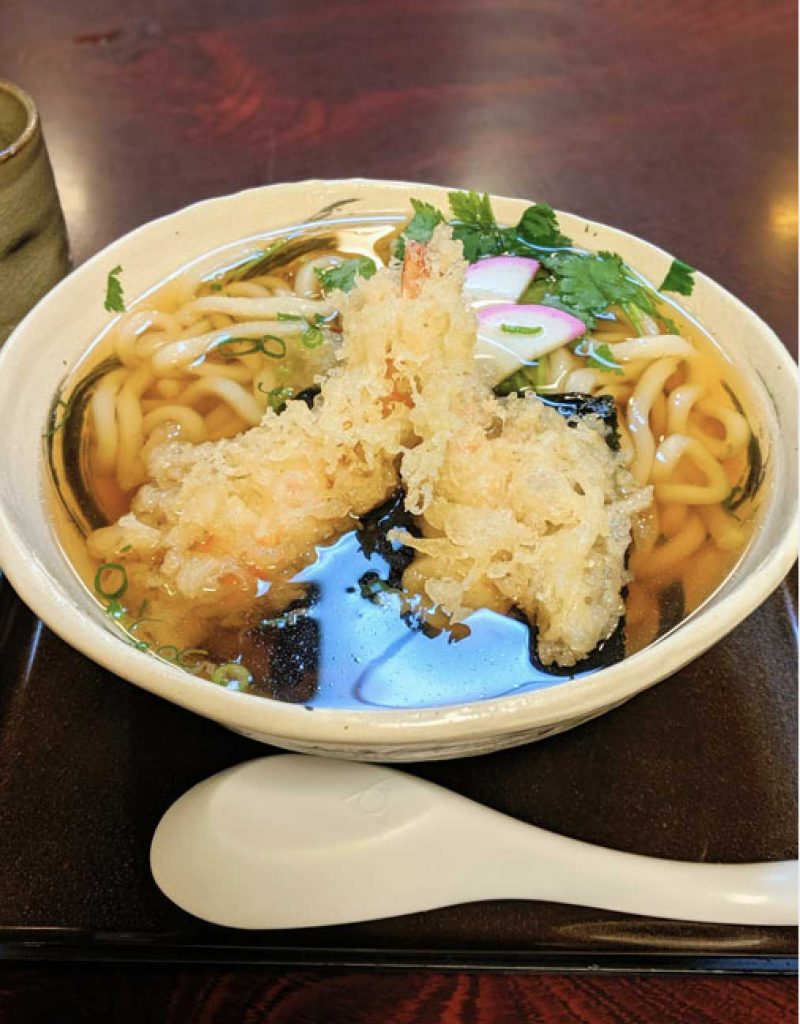 After a satisfying appetizer of Japanese sweets, it was time to get nice and toasty with a steaming bowl of tempura udon from a nearby udon restaurant. Udon is delicious, don't get me wrong. But when you were raised in a household where slurping is discouraged on every level imaginable, it sure does reveal how out of place you are when your slurping skills aren't up to par with everyone else at the table.
In Japan, slurping your noodles shows polite table manners. I eventually gave up my attempt to be polite as I slurped up the air around the noodles instead of the noodles themselves, and just went back to eating normally. It was still delicious though!
| Day Two – Good Morning !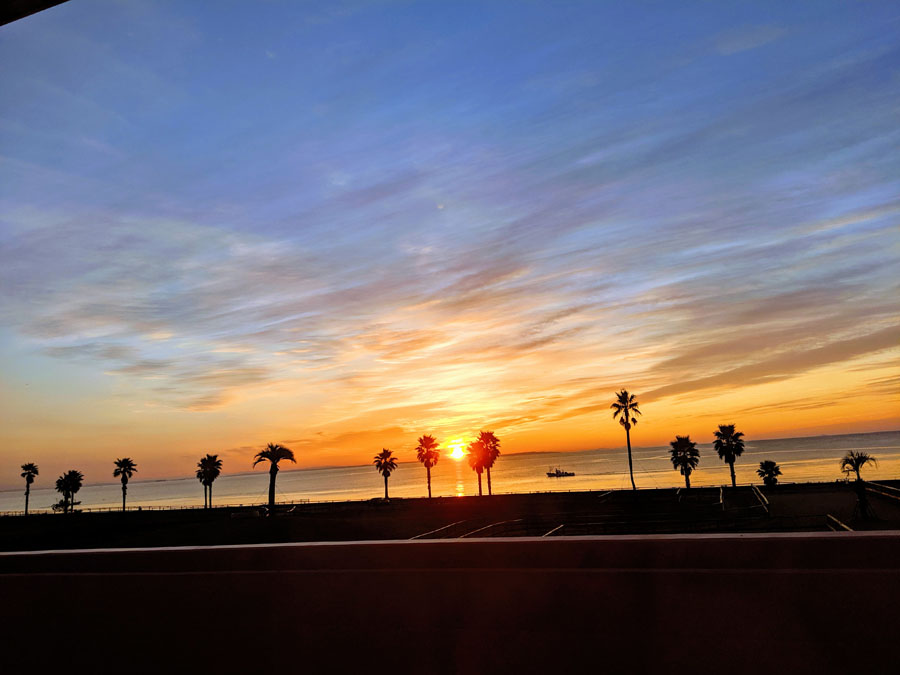 I slept like a baby after my grand adventure at Marina Kawage. Was also greeted by a stunning sunrise right outside my window the next morning. This is the good life, I thought. I didn't want it to end!
We got up bright and early to go on a morning walk, visiting a few lovely shrines along the way. We were warmly greeted by locals, and they were eager to share with us the unique charms that each shrine had to offer.
| And for the Grand Finale: seaside barbeque!
What better way to end your extravagant getaway than with a seaside feast? At Caferest Mermaid, I encountered a bountiful barbeque brimming with flavor in every bite. That's no exaggeration! Complete with savory beef, chicken, sausage, squid, scallops, vegetable kebabs, potatoes, and salad, it was more than satisfying. I especially enjoyed where you dip a fresh baguette into a delicious melody of seafood, garlic, mushroom, and olive oil.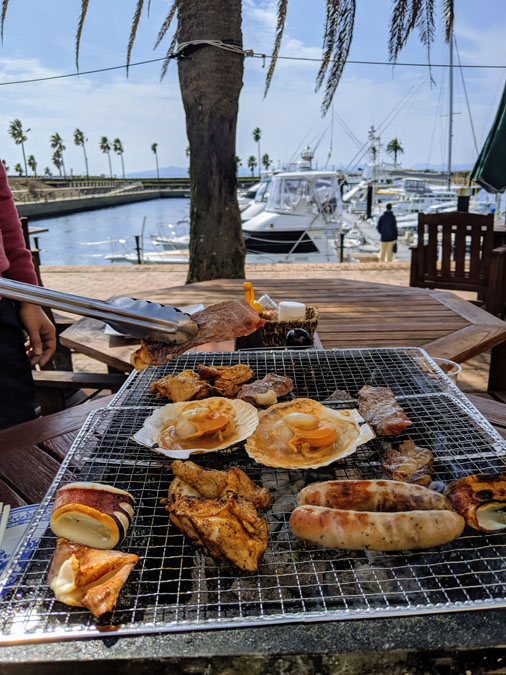 The tender beef, perfectly seasoned chicken, and gorgeous weather put me in a glorious mood. I was also surprised to find out that you can order four smores for 410 yen. My American heart was truly happy.
Marina Kawage in Mie is an excellent choice for family vacations, group getaways, or for if you want to impress that special someone. It's an ideal weekend escape for those who want to treat themselves like royalty, while still experiencing the unbeaten path of Japan.
Check out STAY JAPAN to book a stay in Marina Kawage and enjoy the same experience as Lillian.
---