When I asked Jyo-san, my Okinoerabu tour guide, why he moved to the remote island of Okinoerabu in the southern part of Kagoshima Prefecture, he said it was to get away from the city, to find some peace in nature. When I asked my snorkeling guides why they moved from Ibaraki Prefecture to Okinoerabu Island, it was for much of the same reason: to get away from city life and raise their family alongside nature.
I go through phases when I want to be in the city, among people and bright lights to times when I want to be out in nature, where it is simple and quiet. When I was heading to Okinoerabu Island, I was craving city lights. Little did I know that time with nature was what I really needed.
| Getting to Okinoerabu Island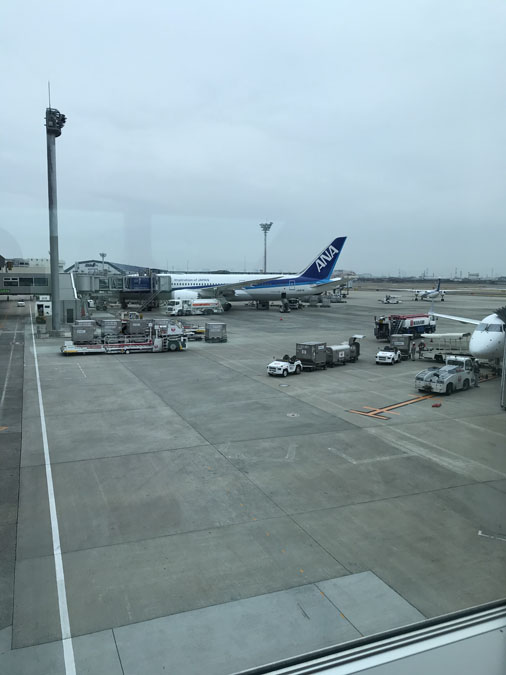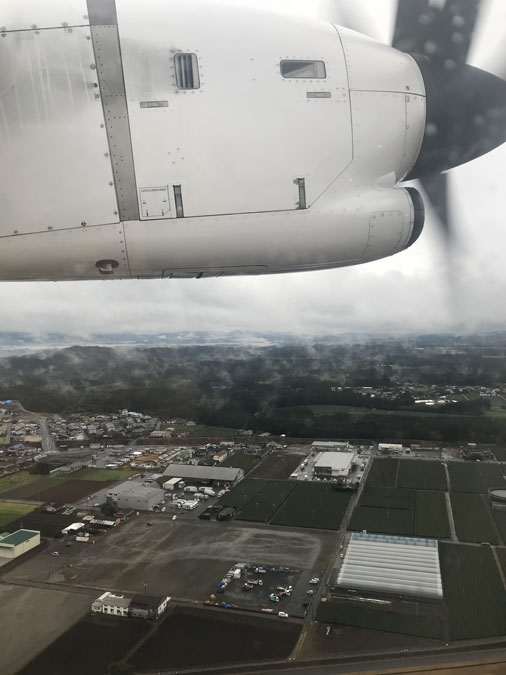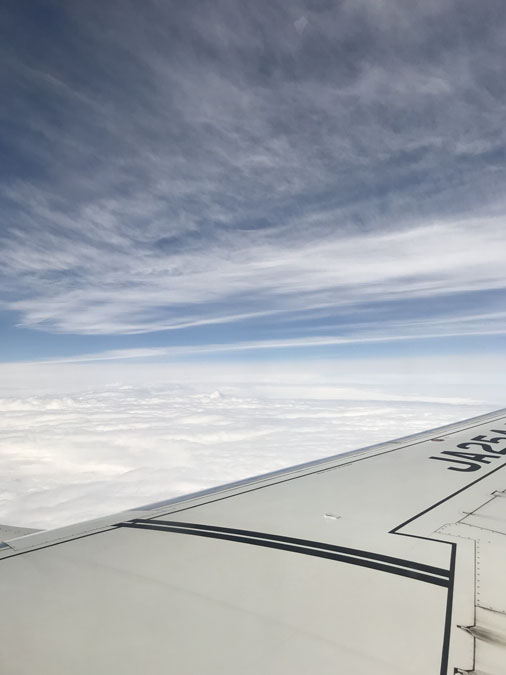 The easiest and quickest way to Okinoerabu is by plane. I took two planes from Osaka to get to this little island. I flew to Kagoshima Prefecture and from Kagoshima to Okinoerabu Island. The flight from Kagoshima Airport was 70 minutes, but as my local guide told me, and from what I experienced, the plane is always running a little behind either coming or going.
If you are the adventurous type and are doing some island hopping in the southern islands of Japan, there are ferries you can take from either Okinawa or Kagoshima, or the surrounding larger islands in the region.
| Where to Stay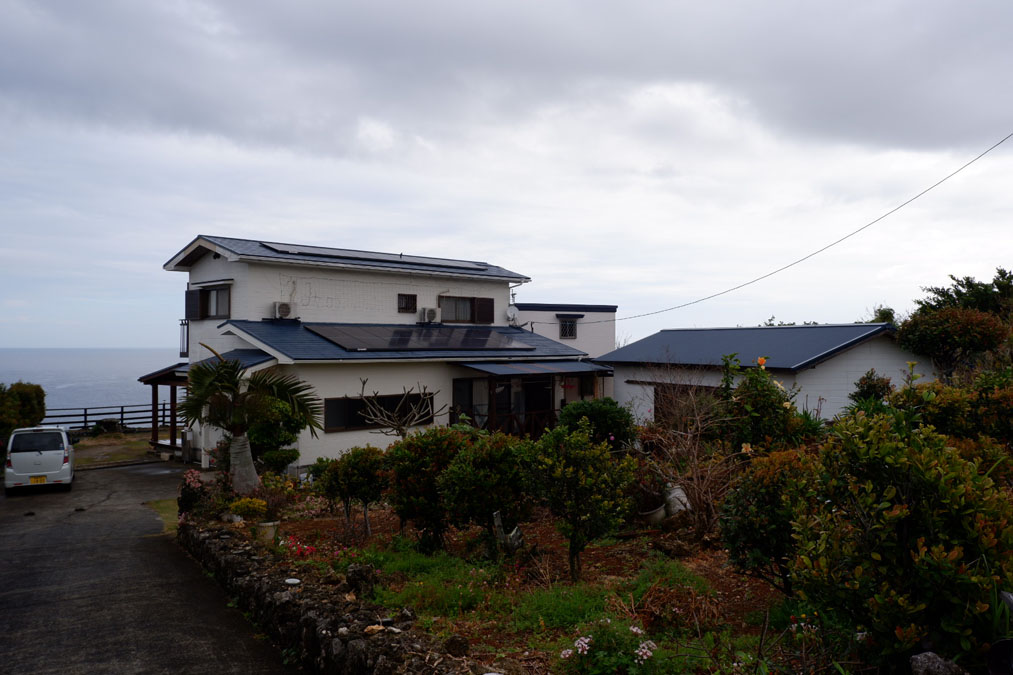 I'm a Florida-girl from the U.S. of A. Being on Okinoerabu Island felt a little like being back home: the warm, slightly humid February air; the pouring rain signaling the changes in season; the warmer water perfect for snorkeling or diving; all the beaches. I was in my element. After my guide, Jyo-san picked me up from the airport, we checked me into my cute little beach house.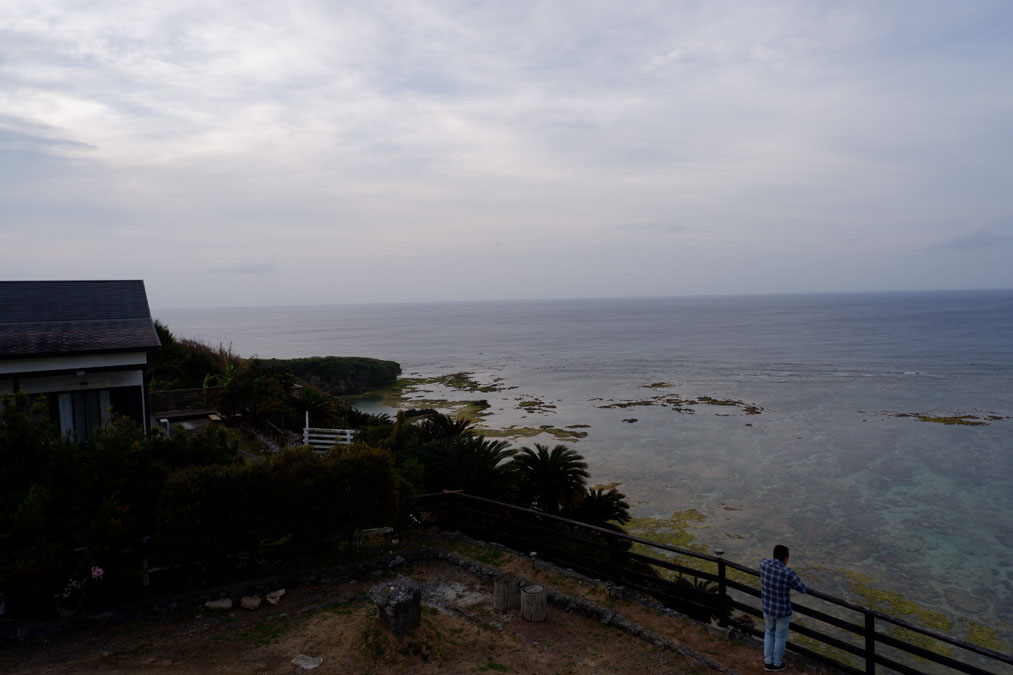 I was to stay at Umi no Meru Penshon or Ocean View Pension in English. This place is perfect for families and big groups! It has two rooms on the upper floor: a western-style room with two beds and a lovely view, and a tatami mat room. I chose the tatami mat room because I liked the patio attached to the room. There is a room for karaoke on the first floor and a full kitchen. It also has ample parking for a big group.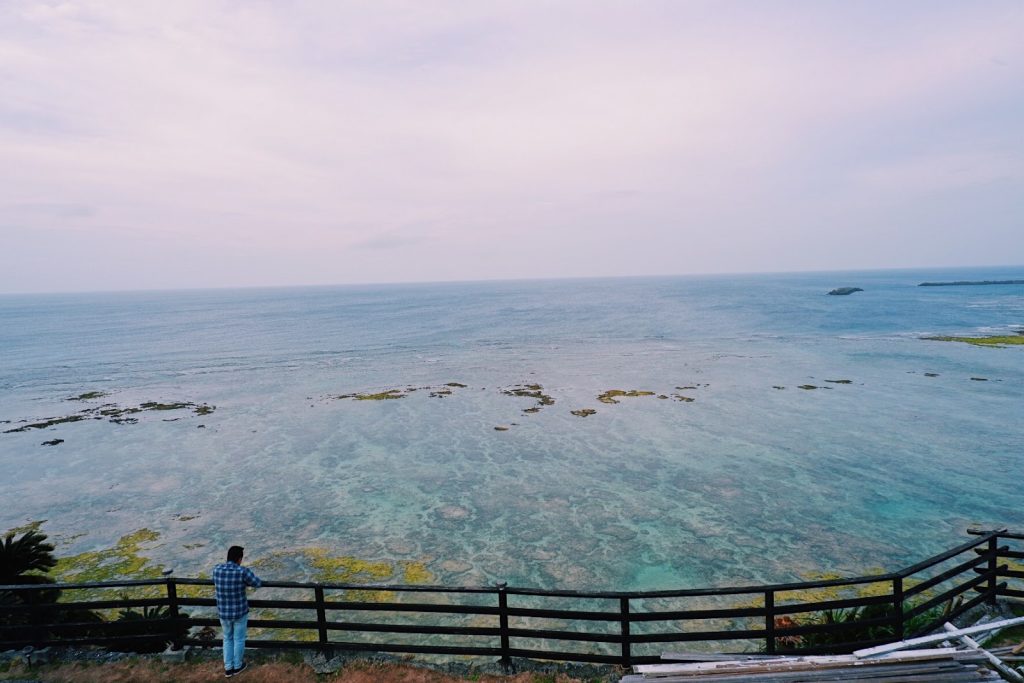 I thoroughly enjoyed the quietness of the place. I left the sliding glass door to my room open to let in that nice sea breeze and ocean sounds to lull me to sleep. During the night, it began to rain, and that added a nice ambient sound. Okinoerabu Island also allows free-camping if you are wanting to stay even more connected to nature!
---
| Day 2 – Nature-Lover's Paradise

I started my tour of Okinoerabu Island at Cape Hanzaki. My guides and I got there just in time to watch the sunset. It was a bit cloudy when we arrived, so I didn't think there would be much of a sunset to see. But, much to our delight, the sky turned from gray to orange to pink as a last gift of the day. It was gorgeous!
My snorkeling guides, Yuri-san and Tomo-san, told me that they sometimes see humpback whales out in the water from that point. Unfortunately, there were no whales to greet us that evening. But, the sunset was still worth it!
| Snorkeling Trip

The next morning, I went on my snorkeling tour with Yuri-san and Tomo-san. They are a very kind couple with very good English. I have been snorkeling a few times, but this was my first time on a tour. Our goal? To see sea turtles!
Now, I know what you must be thinking, "Snorkeling in February?! Isn't the water cold?" Surprisingly, and thankfully, it wasn't that cold. The three of us did don wetsuits, fins, masks, and snorkels before heading out into the water.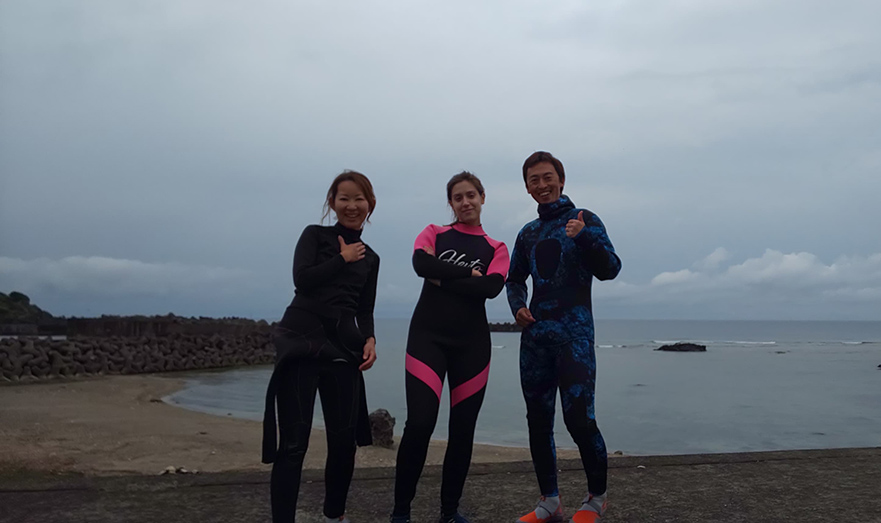 It was a fast hour out in the water. It felt like I was swimming on top of an aquarium. I saw so many different types of vibrant colored fish and coral. I cannot describe the delight I felt in getting to peek into this little underwater world. Loved seeing the different fish swim around, eating, and interacting with one another. I loved peeking into shallow dips in the rock formations to see sea urchins.
I loved peeking into shallow dips in the rock formations to see sea urchins. My inner child was definitely coming out in getting to be among these creatures. But, the question is, did we see a sea turtle? The answer, yes. Yes, we did! Seeing that magnificent creature gliding through the water was better than I ever could have imagined. Needless to say, I will be adding snorkeling tours to my list of things to do when I travel!
| Trekking Tour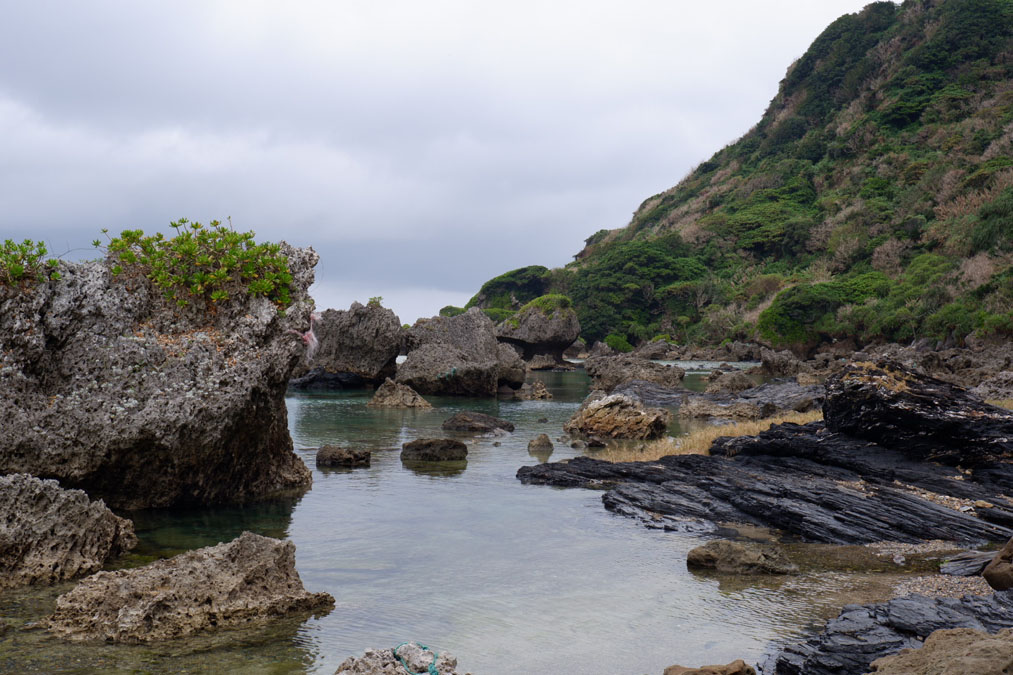 Okinoerabu Island is known for its limestone caves. There is a huge network of caves throughout the island. So, the second part of my island tour included a short excursion underground. I'm going to be a little vulnerable here and say that I have never liked going into caves. I have done a few short cave tours because I don't let that kind of fear control my life. I know that once it is over, I will be proud of myself for pushing through that fear.
Plus, my curiosity (and maybe pride) overrules that fear almost every time. Therefore, into the cave, I went! My tour guide had found this cave network and had explored it many times. It was interesting walking through and seeing all the different rock formations. Some rocks looked like bones calcified together.
There were lots of stalactites and stalagmites streaked with tan and white that glittered in the flashlight light. Some rocks, you could tell, were created by water that used to sit in the caves. Of course, in one of the big caverns, we turned off our flashlights for just a moment to experience absolute darkness and listen to water that was slowly dripped down from the stalactites, history in the making. My snorkeling guides had tagged along, and when we turned the lights back on their lanterns had a "rave" setting, casting beautiful red, blue, and green lights on the cavern walls. A "Rave in the Cave," so to say!

The cave network led to a little jungle deposit by the ocean. We couldn't see the ocean, but we could hear it. I was happy to be back on the sunny side of dirt before my mind fully caught up with me about being trapped underground. We grabbed some pictures before heading back into the cave. Yay!
Going back was a little quicker. I have a pretty good sense of direction, and scrambling over the rocks was fun. But, I was glad to be out. Especially since my guide decided to play a little joke of "I don't know the way out" right at the end. Just about had me panicking! I have seen too many horror movies of people trapped underground…
All in all, my day running around the island was a lot of fun! I also got to meet quite a few of the local people. They were beyond friendly and gracious hosts, as is the standard in Japan. There seemed to be even more of a laid-back vibe to the inhabitants of Okinoerabu Island. I think it is all the positive ions of the beach and jungle.
| Where To Eat

My favorite place we went to eat was Mi-Ya curry house. It is literally a house built in the traditional style of this island. It even has a traditional outdoor kitchen! The curry was delicious, but the company was even better!

Location: 1073 Neori, Wadomari, Oshima District, Kagoshima 891-9121
Sou Izakaya was good as well. I had a pizza. I wish I had tried the local goat-meat dish, but I was not feeling so adventurous.

Location: 512-7 Tedechina, Wadomari, Oshima District, Kagoshima 891-9111
| Things I wish I had Time to Do
The weather was not great on Sunday. We were just barely able to squeeze in the snorkeling tour in the morning. It started to rain shortly after we got out of the water, and the rain only fell harder throughout the day. Because of this situation, we didn't get to do some things.
There is a short hike to a very old cider tree.
Yononushi's tomb. Yononushi was the king of this island around 600 years ago.
Walk along the Fucha coast at low tide. I got to drive past it, and it looked beautiful! There were lots of tide pools and rocks jutting out of the water. If it weren't for the pouring rain, I would have adventured out.
Shoryudo Cavern is the most popular cave site on the island. I know, I know. It seems hypocritical to say going into the little cave about gave me a heart attack, but then say I would have liked to have seen these caverns too. My curiosity wills out!
Re:born Juicery. I'm a sucker for fresh-pressed juices.
Location: 476 Seiri Sen, China Town, Oshima County, Kagoshima Prefecture 891-9213
| Add Okinoerabu Island to Your Itinerary

Early spring to the beginning of summer would be the perfect time to visit Okinoerabu Island. This time period would grant you a much more private and intimate interaction with this island's people and nature. Visiting at this time would also lessen the chances of dealing with typhoons.
Jyo-san is a very knowledgeable guide with very good English. Tomo-san and Yuri-san, my snorkeling guides, are very kind and also have strong English skills. Though, as with traveling in any foreign country, knowing a little bit of the native language goes a long way.
Given a chance, I would visit Okinoerabu Island again with some friends, or as a solo-female traveler once again. I would love to see more turtles, and maybe even some whales! If you are in the southern islands of Japan, don't miss Okinoerabu Island!
---