Traveling Japan is terribly difficult if it is not 95% worth it. Yup, I went there, me, a super curious, super social, super active person, granted I am also really critical of everything around me, but the point is, traveling Japan is often times more of a pain with little gain than it is tons of gain with little pain. 
My Traveling Adventures
I have only started traveling in the last 2 years; I've visited 6 countries and lived in 2 (my own plus somewhere new), so I am not an expert, but I have had enough experience to make up my mind. Let me make it clear quickly too, that I am not at all opposed to traveling,  I am just reestablishing how it should be done. Of all the 7 places I have been able to experience, living in and traveling Japan (somewhere new) has been hands down the most satisfying experience. If the living-in-Japan-experience is in one hand, and the 6 other countries I've visited is in the other hand, living in Japan totally tips the scale. 
It all boils down to Time, with a capital T, because it is the essence of life. When traveling, you (a.k.a 99% of us, a.k.a not the 1% elite) do not have much time or its equivalent, money. These essential resources are limited and prone to disappearing acts. This ultimately means that when you visit a new place, you are mostly restricted, but you also want to make sure you experience the fullness and depth of the place, so you go where they (I don't know who they are, but you can check with Jon Ronson) say the most culture and history is; tourist hotspots. Have you ever seen a hot spot on a dog? It's an open sore, and yes I am saying the same thing about where tourists pile in; hot and greedy, selfie-sticks and camera flashes willingly blocking the context and meaning of the place.
Not Enough Time
I have fallen victim to this cycle more often than I would like to admit. I panic-see, there is so little time and so much to do, I have to see the things that are big and worth it, the places that reel you in in the first place, right? Generally, capitalism and globalisation have twisted the places and its people into opportunistic money machines.
The places are diluted by the tourists gaze, sometimes so full of people you forget where you are or why you came. Gentrification looks gorgeous in pictures, never-mind the polluted waterways over there, it's cropable. A few locals take advantage of your haste and hunger, selling their culture on key-rings and postcards, plasticised and depreciated, using the beauty and resources around them to bait you. The restaurants advertise local dishes (mostly overpriced), with less spice and flavor so as to not hurt the foreign stomach. All the tour companies offer the same path less taken with a free bottle of water. 
As you can see, I have more often than not been totally disappointed and disillusioned by sightseeing. Maybe you get me, maybe you really don't, either way, I want to offer a better way of doing things. Basically I am trying to figure out how to emulate the experience of living in a country while travelling. I am wondering how a mere tourist can tap into these more authentic grassroots experiences of a place when they have less time and money to do so. How can anyone find that nugget of authenticity while travelling?
Perhaps it is all a home-stay away…or at least this is the kind of experience that changed my mind about travel.
My Wonderful Host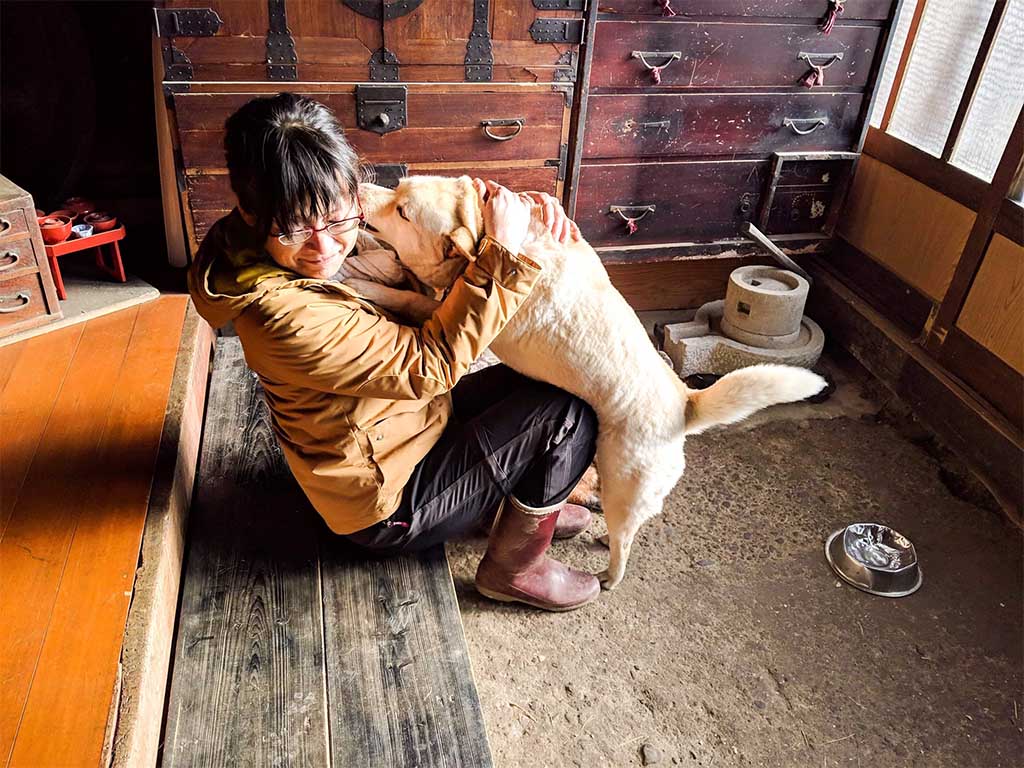 It was in the pre-spring coolness of February when I stayed with a wonderful host, Araki-san & her utterly loyal Shiba, Rei-chan with Stay Japan in Echizen City, Fukui. A couple of us lucky enough to see the Facebook post before it was swallowed in algorithms managed to sign up for a monitor tour.
The House
The tour was really focused on this one rare and deeply traditional harvest festival that is held in the area; the Gobou-Gou Festival. The festival was fascinating, and so was the rest of the tour which included green tea tasting, washi-paper making and a shrine visit, but the home-stay experience might be the most cherished memory from this time, perhaps even of my whole time in Japan too. This is because the homestay was a unique experience to peep into the nuances of the local, more traditional ways of life; eating, sleeping and doing as a Japanese person might.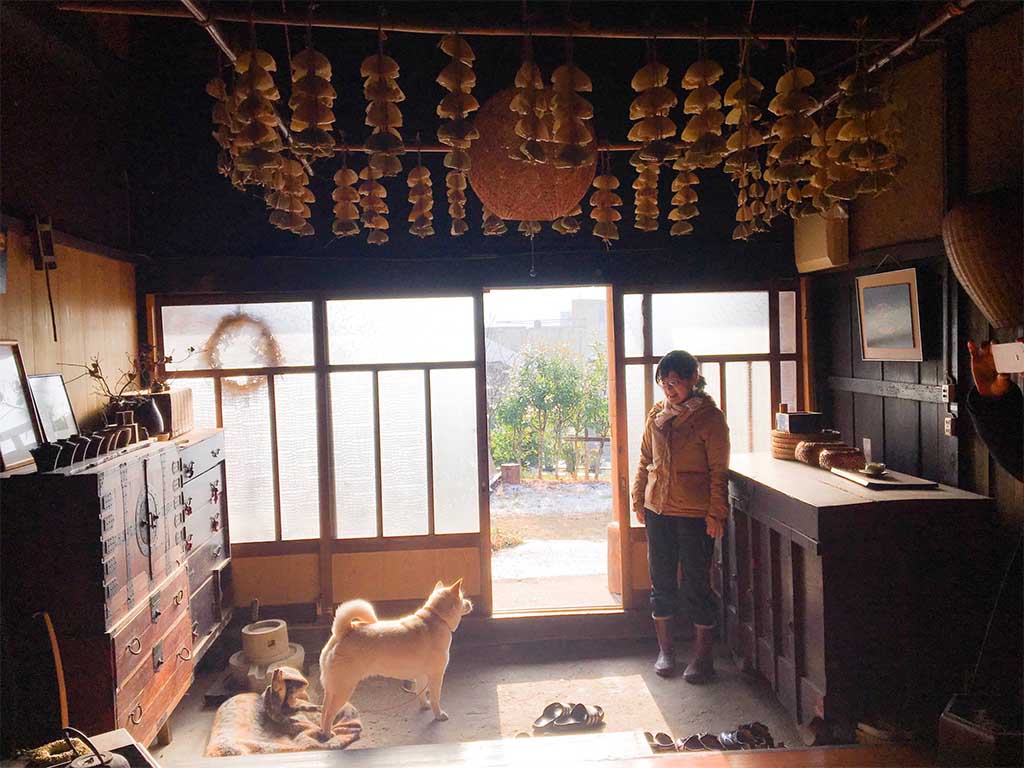 It was in an old traditional home, having been saved from the brink of dilapidation by Araki-san and a deaf man, who taught us some Japanese sign language that was totally fascinating. Araki-san met him when he had nothing but a back-pack cycling around Japan for the spirituality of it. Another man who happened to be both a monk and a successful businessman (in the business of fishing boats catching near Cape Town, where I am from) joined us.
The Food
We chatted over a local meal with home-grown veggies and fresh Saba. I told Mr. Monk that he was possibly an anomaly; how had he gotten to the point of being deep into both ends of the spectrum; capitalism and spirituality? His answer was about the Shinto-Buddhist concept of "go-en" (ご縁): those seemingly serendipitous encounters that result in long and meaningful relationships, always saying 'yes' or 'maybe' so as not to burn any bridges and to maintain constant connection…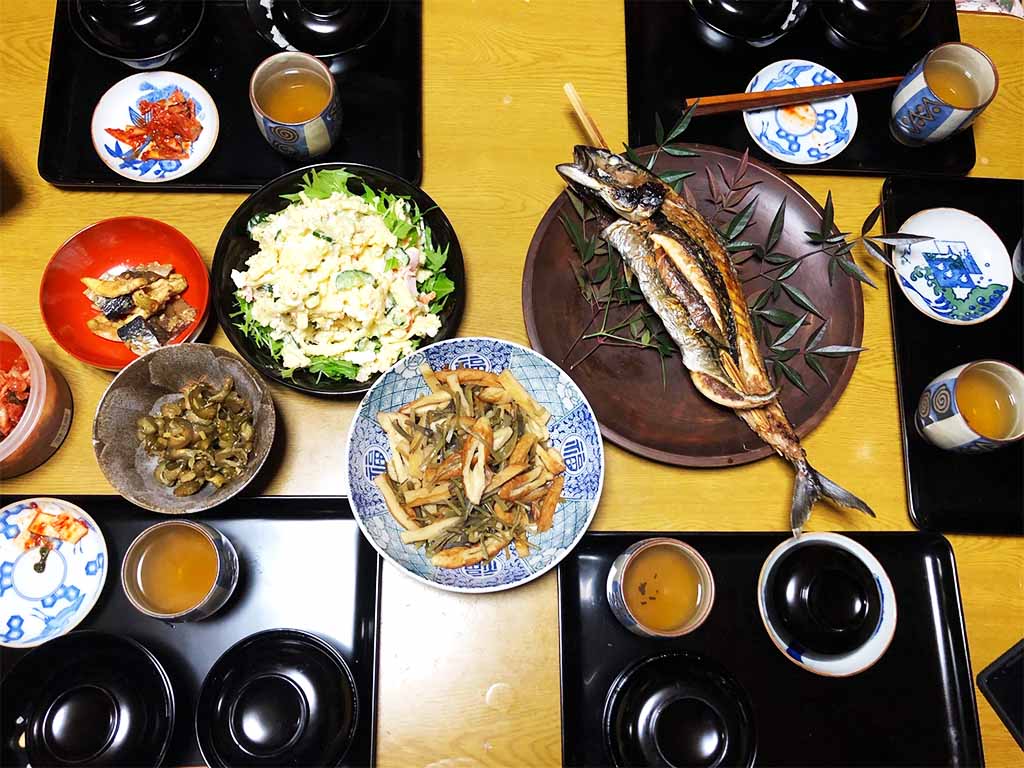 After dinner, we dipped in the nearby onsen while snow fell around our steaming bodies. I was naked in the middle of a strange and wonderful countryside surrounded by people who couldn't understand anything I might say. I was in my element really, this is what it is all about; connection and conversation, not just person to person, but connection and conversation with the place, the food, the culture. It's a wholly different experience to understand a country and its culture from the very core at which it is practiced; in the home. 
So my point is, after that very critical tirade about traveling Japan (you were almost thrown, weren't you? Good, you should think about it more), do your research, do a homestay, get involved with the locals, and make it 95% worth it. The older, the wiser, the longer the stay, the better, the more involved. Araki-san offers her home up to a multitude of foreign guests each year, and they are expected to work for their stay, helping on the farm and around the house. 
Luckily you are almost right where you need to be; Stay Japan offers lots of intimate accommodation experiences; you can take a trip through the site right now.
---